November 10th, 2009 by evan

When visiting Tropical Blends Surf the other day, Jim mentioned that the Paha 9′1″ SUP model was the best surfing SUP he's ridden so far. We'll have to take this for a demo ourselves to see for ourselves. In the meantime, here's the specs below.

The Paha
Length: 9′ 1″
Width: 28 1/2″
Thickness: 3 7/8″
Fin set-up: 2 + 1
(From Tropical Blends) – As we strive to push our equipment into the world of advanced performance, we also look to re-define what that means to the stand-up surfer. At this point, the Paha exemplifies what we consider the cutting edge of performance surfing. The bottom design marries a definite "V" with a slight concave and a double barrel off the fins. This board wants to ride like a performance short board; drives hard, converts from rail to rail quickly and will really surprise you off the top. If you want to expand your stand-up surfing horizons, this is the board.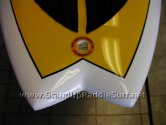 Swallow tail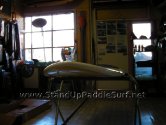 The nose rocker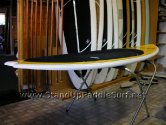 Rocker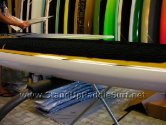 Soft rails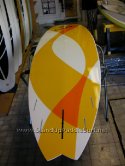 5 fin boxes for versatile fin configuration and
nice graphic design at the bottom
Surf Range:
160 lbs to 210 lbs
Intermediate to Advanced
Related posts