July 14th, 2008 by evan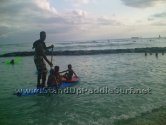 I got a chance to ride two of the Oxbow stand up paddle boards on July 2. Duane DeSoto called up and said he was taking his family (5 kids and wife) along with a bunch of family friends and kids to Baby Queens in Waikiki. I took my family to meet up with them for a fun late afternoon get together. I really wanted my boys to play with Duane's kids so that they get more comfortable in the water. Duane's kids can all swim and most can surf. I brought my Surftech Blacktip for the kids to play on and when we both got to the beach around the same time. Duane brought a whole truck full of boards…I think 6 or 8 of them, paddles, bodyboards, etc. There was definitely enough for the kids to play with.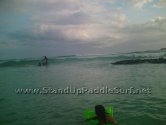 Duane with the kids catching some waves
One highlight was watching him take 4 kids on the Surftech Blacktip and catch waves. I'm bummed that my camera ran out of batteries at the wrong moment but it was a sight to see. At first, he started inside the wall area of the lagoon in front of Baby Queens and eventually moved out to the break right in front of Queens. They caught some fun waves and some of the girls stood up while riding. If you have kids and want to play around with them, the Blacktip is a really fun stand up board.
The board I was surprised with was the Oxbow stand up board. I tried the 11′er for a short while during a downwind run with Duane a few weeks back but that wasn't in the surf. His Oxbow 11′ is surprisingly stable and paddled pretty well. My only gripe was there was some delam on the board but that may have been due to a LOT of use and no pad on the board.
I jumped on the 11′er with my 54″ paddle to get close enough to get closer pictures. After the battery died, I started catching waves. At first I thought that the glide and speed I was experiencing was due to the short paddle and that may have been the case but I could catch ripples and waves that were just thinking about forming.
I later tried out his 10′ Oxbow and realized that the awesome glide I was experiencing was for real. I wish all the stand up boards could glide like the Oxbow did. I need to get more time on it in the water to properly judge the surfing although Duane won second place in the Steinlager Queens contest the previous weekend on it.
We stayed at the beach until after dark. I wish we could have stayed longer although it was after 8 pm and a school night so the kids needed to get back home. We'll definitely do this again.


(click thumbnail to launch video)
Related posts