January 20th, 2011 by evan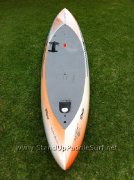 Here are some pictures of the new S.I.C. Custom 14′ Bullet SUP race board. I just got this board on January 18 and I was able to try it out in glassy south shore conditions and waist high waves. My first impression is that the board surfs really well for a 14′ board and seems to connect small bumps but it's hard to tell until I ride it in real downwind conditions.

Mark Raaphorst first told me about the Bullet 14 around the holidays and I was really excited to test it out. I really like the F-14 although it felt like the volume was just a tad bit short of floating my 200-210 lbs weight. The volume on the Bullet 14 seems much more appropriate and my feet are hardly getting wet, just like the 17′ Bullet. I like that. I will take this downwind once the trade winds come back.
The main difference I noticed compared to the S.I.C. F-14 is that the 14′ Bullet is thicker and has more volume. The tail looks a bit thicker too, making it easier for the following swell to lift it up which is important, especially for heavier guys: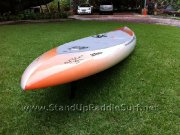 Profile view of the custom 14′ Bullet fom the tail
It has 2 goretex air vents, 1 by the nose and 1 by the tail: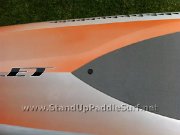 Goretex air vent located in front of the steering pedal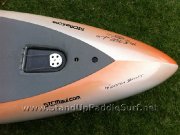 Leash plug and Goretex air vent located in behind the rudder assembly
The custom 14′ Bullet uses the same rudder system as the S.I.C. F-14 but placement is more forward on the 14′ Bullet: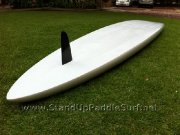 The rudder
Another view of the rudder
More pictures: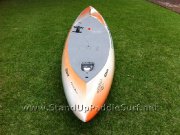 Top view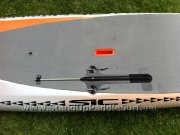 The handle and steering pedal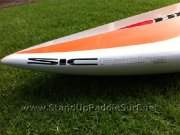 The nose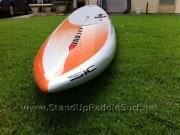 Profile view from the nose
This board is a beauty. You have to see it in person to appreciate the paint job and fades that the S.I.C. team did. I can't wait to try this on a downwinder. I'll post the update and comments when I get in a real run.
Here are the specs and info for the 14′ Bullet SUP race board sent to us by Mark Raaphorst:
The new SIC Bullet 14,
A scaled down version of the Bullet 17
It is a fast, light and maneuverable downwind machine.

Dimensions: 14′ x 27 3/8″ x 6″

2-tone fade paint job
Dual steering plumbed w/ lock-off plate

Available: Spring 2011
Price: $2500
Related posts