March 5th, 2009 by evan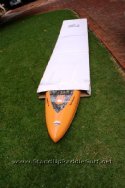 I've actually had this board for a few weeks now but this post took a while to finish. I got lucky with this F-14 SUP race board. I tried Ray Shiraishi's custom F-14 (no rudder) during a downwind run a while back in pure epic conditions. The wind was over 20 mph and was very consistent. The swell was going in the right direction. It was at least waist high on the swell and there was a good amount of bumps and wind and it was a super fun downwinder.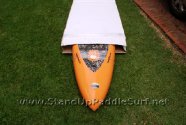 Christmas comes late…or is it early?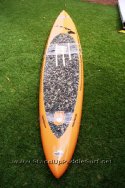 Unboxed, not assembled and shrink wrapped F-14

I was on a Joe Blair 12'6" during the downwinder and was testing out a different fin configuration that I moved around a bit. Harris Chang, who was also with us, was on an F-15 and Ray was on his F-14. Ray had met us out in the water at the Hawaii Kai Maunalua Bay buoy.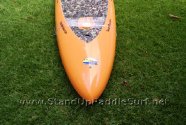 Behind the sticker there's a little screw and the drain plug is now up front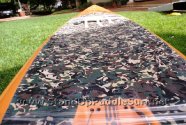 Deck has a slight concave

We went on a downwind run and it seemed to me that Ray was not almost even paddling.
I thought "Is Ray even paddling? What's he doing?"
He was paddling lightly and just cruising. During the whole time that he was in front of me, I was like "what was going on around here?" Maybe he's just a good paddler? After he finally fell, we decided to switch boards, I got a chance to try Ray's F-14, and the board blew me away. It caught swells super easy. The only thing that was missing (to me) on the Ray's F-14 board was a rudder. I was thinking, "if this board had a rudder, it'd be perfect."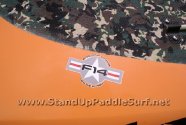 Deck pad is flush with deck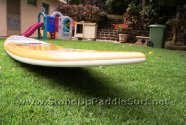 F-14 nose is much thinner and concave bottom instead of the displacement type nose on the F-16

I ended up calling Mark Raaphorst and told him about my experience on the F-14. I remember him mentioning that the F-14 is more fun than the F-16 and F-18. I always wondered what he meant by "more fun"?
After the run, I finally understood what he meant by "more fun" because on an F-14, it's different. It's more maneuverable than the F16 and F18. Even if the F14 is smaller than the two other boards, it's still long enough to catch the open ocean swells with no problem. And with a rudder, you have a lot more flexibility. The board surfs and fits in the trough nicely.
I wanted to get a hollow carbon molded F-14 with rudder, but with all of these boards as they're custom made, it takes awhile. It takes anywhere from two months on up. I got lucky because a lady who had ordered one didn't like the color scheme and wanted to get a different board, so I got it!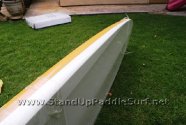 Flat panels on the side to a double concave to V in the tail

I've put at least 20 hours on the F-14 in the past weeks and absolutely love this board. I've had my fastest times so far on this board. Ray kept beating me on downwinders so I thought that maybe his F-14 was faster.  I was wrong. Ray's a faster paddler. We switched boards for a run a couple weeks back and he beat me by 5 or 10 minutes. I got stuck outside of Diamond Head and ended up on my knees a bit to get back in. I totally prefer the rudder. It makes a huge difference.
This board is super fun and I've had the longest runners (connecting multiple swells) that I've ever had. I'm even thinking about the new F-16 but right now I'm really liking the 14′ length. The 14′ length and light weight makes this board speed up exponentially as the wind increases over 15 mph. It's really nimble, turns on a dime and I've found the new nose allows me to ride, even when the nose is a bit under water.
Ray and I gave the report to Jim over at Tropical Blends and he ended up ordering one for himself and another 3 for customers. I don't think you can go wrong with this board.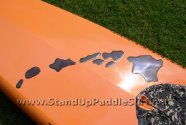 Carbon fiber Hawaiian Island inlay

To see more of the carbon fiber hollow F-14 board, watch this video.


(click thumbnail to launch video)
Related posts