January 24th, 2011 by davi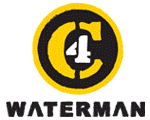 FOR IMMEDIATE RELEASE
Contact: Liam Wilmott, +1.808. 230-7712
C4 WATERMAN ANNOUNCES PARTNERSHIP
WITH GREENWATER HOLDINGS
Honolulu, Oahu, HAWAII – January 24, 2011 – C4 Waterman, Inc., a Hawaii-based adventure sports company making tools to support the waterman lifestyle, has announced a strategic partnership with GreenWater Holdings, an investment and brand development firm out of Newport Beach, California. GreenWater's capital investment, along with its operations, manufacturing and product design expertise, ensures the Hawaiian company's position as a premier brand in the action sports industry.

C4 Waterman was launched in 2007 by some of Hawaii's most legendary watermen with a premium line of stand-up paddle (SUP) boards and paddles. Today, C4 is recognized worldwide as the pioneer and innovator of SUP surfing and racing and as the premier brand for SUP boards, paddles and related accessories. The C4 team has continued to break new ground with inflatable SUPs ("iSUP") and surfboards, water rescue equipment and related soft goods. C4's development of the iSUP has ushered in a new class of river exploration and whitewater riding for inland sports enthusiasts around the world.
While innovative product design has kept C4 ahead of the pack, it is the team's dedication and commitment to sharing the lifestyle of the waterman, through event sponsorship and demonstrations around the world, that make them leaders in the industry.
"This will be a very exciting growth phase for C4 Waterman with the expansion of the brand well beyond the stand-up paddle equipment that we are best known for," said Todd Bradley, co-founder and CEO of C4 Waterman.
"As we've always said, 'waterman' is more than a word, it's a lifestyle. No single piece of equipment defines a waterman. Partnering with GreenWater will allow us to become the company we have always envisioned: a lifestyle brand providing the best quality products to make the waterman's time on the water as productive and enjoyable as possible. We look forward to exploring the many opportunities that lie ahead."
"We are excited about being a part of the next chapter for C4 Waterman," said GreenWater's Jason Stanson. "C4 is an industry pioneer and leader with genuine authenticity. It has a world class team of professionals that are committed and passionate. We look forward to joining them in being good ambassadors for Hawaii and the waterman's lifestyle."
Key company insiders Todd Bradley, Brian Keaulana, Dave Parmenter, Archie Kalepa and Bruce Raymond will continue to steer the company with the full support of GreenWater.
# # #
C4 Waterman, Inc. is an Oahu, Hawaii-based lifestyle and adventure sports equipment company focused on providing the highest quality hard goods and soft goods to water sports athletes and enthusiasts around the world. C4 was the first authentic company with a focus on SUP and continues to lead the pack when it comes to industry recognition, authenticity and product design.
GreenWater is a resource for quality brands in the action sports and outdoor sports industries. The team brings years of experience directly operating companies in these industries along with years of private equity investing and corporate finance experience. GreenWater invests in quality brands and provides management teams with the resources necessary to achieve their long-term growth objectives and maximize brand and equity value.
Related posts