August 4th, 2008 by evan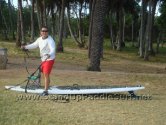 I'm pretty late on a lot of posts and this is no exception. Spring break in March was a blast. We got in a week in Haleiwa on the North Shore of Oahu. Joe Blair was on island at the same time.
Joe's going to kill me but I have to tell this story. We were all surfing and I had 2 friends join us. In the afternoon I went to spend time with my family and they called to go out on another session. They made me wait for almost 2 hours from when we were supposed to meet up and wouldn't answer their phones.
I was a bit po'd and when they arrived they said they were eating. Figures, they are all big guys. I was giving my friend a hard time and then he told me that they didn't eat that much but they were amazed with Joe. Joe ordered extra tarter sauce and ate it straight out of the container. I've been calling him tarter sauce ever since.
Joe offers the friends of standuppaddlesurf.net a discount and I used to tell people to mention standuppaddlesurf.net but now you can just tell him the code word is 'tarter sauce'.
Here are some pics from spring break.
Related posts