September 20th, 2007 by evan
I think a lot of the questions being asked about SUP are going to be answered in the C4 Stand Up Paddle Surfing DVD which is being released in October 2007.
I went to their HQ to buy a handle grip and ended up getting a bunch of great tips which Todd said are in the video. He showed me why the paddle was designed how it is and the angles and everything. Now I know that's a bit gear headed but I love this stuff. Anything that can speed up my learning curve is absolutely welcome. I'm trying to get them to do a short interview on Stand Up Paddling for the SUP community but we'll see how that goes.
I found a trailer for it here: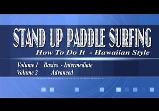 (click thumbnail to launch video)
Related posts