September 26th, 2007 by evan
My buddy Jeff Chang at Wet Feet Hawaii www.WetFeetHawaii.com turned me onto the F-16 stand up paddle board for distance runs. I guess they do up to 30 mile paddles on this bad boy. I can't wait to get him to let me try his out. Jeff got me so excited yesterday when he was telling me about it. He said that it was like riding a continuous wave the whole paddle run. It's because you can actually ride open ocean swells and any little bump during your ride as long as the wind is fairly strong.

I have another friend named Jeff H that said he saw Jeff C pass him while he was out surfing his Jimmy 11. Jeff C was doing a downwind run and before Jeff H could turn his head to see Jeff C, he was 3 strokes was something like 4 board lengths away. Jeff H said Jeff C was flying.
If you want one, go to Wet Feet Hawaii and check it out. www.WetFeetHawaii.com
Check out this video from Giampolo Cammar's website.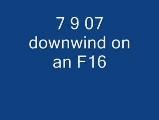 (click thumbnail to launch video)
Here's the lowdown from www.paddlemaui.com:
In February we started the mold for our hollow 16' Stand-Up point to point paddle board. Mark shaped 7 prototypes prior to taking last month's plug into molding and production. The board is 16' X 27 3/8" X 5 1/4". We start production March 22, '07. We de-molded the first unit on March 28. It was built for Dave Kalama's Quiksilver promotional Florida coast run together with Jamie Mitchell
The Hull:
It has a lay down paddle board type nose entry for low friction displacement qualities. The mid section is flat for stability. The tail has some V for surfing qualities and we added some double concave for speed once you are on a swell and need to connect to the next trough.
The Rocker:
Growing up on Maui's North Shore, with Maliko runs as its main testing ground, we found that the board needed some nose rocker. Submerging your bow into the next swell slows you down to say the least. The mid section is fairly flat for ease of glide and the tail exit has a natural curve.
The Outline:
The concept of less baggage is key to prevent sideways drift in any kind of cross breeze. The foam flow of the nose has enough thickness to perform like a surf board but not so much that it acts like a sail boat looks like a log. We kept it narrow. Overall Width (OAW) @ 12" from nose is 10". The center of the board is also the widest point (balanced) @ 27 3/8". It has enough stability for an experienced rider but it is definitely no wide "oil platform". It is built for speed! The tail is narrow . When F-16 is planing less wetted surface creates less drag and therefore more speed.
The Deck:
The bow section has a "V" to expel water in case you do poke into an upcoming swell. The deck area where you mainly stand has a slight bit of a single concave (3/8") for feet comfort. The concave is not noticeable to the naked eye unless you put a straight edge on the deck.
The Rails:
Like the lay-down paddle board concept ,we believe in soft rails in the front for displacing water. While planing, a hard edge in the tail give good water relief. A good amount of under-tuck makes for ease of surfing once on a swell. Full rail volume allows for plenty of buoyancy for riders up to 250 pounds.
The Pad:
We found that wax is good for a while, but an EVA pad is more comfortable in the long run. F-16 comes with an integrated 1/8" (3 mm) x 11' long pad (light and dark grey or blue or orange or green or spotted red/yellow/black).
The Construction:
We learned a lot from the hollow 12' KuNalu now in production for over a year. We've built about 70 of them. So far just one broke and that was in hollow surf. Beside the KuNalu SUP, S.I.C has 4 years of OC-1 Eclipse canoe production knowledge and 20 plus years of ding repair experience. F-16 will be built with lots of carbon for stiffness. All lay up is vacuum bagged and breather and absorption plies make for a high fiber to epoxy resin ratio. Both bow and hull are 1 1/8" thick and have 3 strong backs (stringers) in them. Boards simply cannot sink and if it does strike a leak water can be drained out.
The Steering:
The Active Steering System (ASS) will be positioned for regular or goofy footer or upon request plumbed for duo (resale). It has a 5" adjustable insert placement for the foot paddle pivot point. (back and forward) It comes with a spring loaded fiberglass batten so when you step back and surf, the rudder will come back to the straight position. It comes with a friction bar so steering can be adjusted to light or tight. The rudder is a molded 9 1/4" spitfire type (straight up and down) design. It has a foil for medium speed (5 to 15 MPH) efficiency. Cables are tension adjustable with 2 turn buckles in the rear. All hardware is stainless steel and molded carbon.
The Weight: approximately 28 pounds.
Color:
We recommend a white bottom. The deck can be sprayed in most gel coat colors. Please look for sample color chip in the Eclipse page on the top of this page on this website.
Time frame:
It takes a $500 down payment to be placed on the production schedule. The $500 is fully refundable up to 4 weeks prior to the start of your order. `As of July 23 2007 we have 11 confirmed orders and it takes a week to build one. We finished 16 and we expect things to slow down a bit after the Molokai Channel rush is over. About 13 boards are for the Kaiwi channel race. (July 29)
Latest race results:
Hennessey's Maliko to Kahului 2007
#1 Dave Kalama F-16
#2 Ekolu Kalama Custom S.I.C.
#3 Alain Cadiz F-16
#4 Guy Pere Timpone/SIC
#5 Scott Trudon F-16
#6 Buzzie Kerbox F-16
#7 Nabiel Vogele F-16
Quiksilver Molokai to Oahu 2007
Team with rudder:
#1 Dave & Ekolu Kalama F-16
#2 Alain Cadiz & Scott Trudon F-16
#3 Jeremy Riggs & Nabiel Vogele F-16
Solo with rudder:
#1 Kevin Horgan F-16
#2 Vitor Marcal custom SIC
#3 Riel Custodio F-16
The Kalama's time (4h.36m.) divided by the 32 mile distance averages a speed of 8.6 M/H. Build for speed!
Thanks for all your support and congratulation to all competitors! – MR
Cost: $2400
Shipping:
Inter island pick up at the YB dock is $25
West coast by air in 5 days to your location: $250
West Coast by Matson Ocean Freight appr. $150
East coast by air in a week to your location : $520
$80 charge for packaging.
Travel board bags:
Custom fitted travel bags made by Da Kine Hawaii. Cost is $275
Related posts