October 10th, 2007 by evan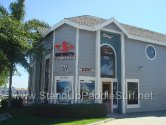 I got a chance to visit the Infinity Surf Shop in Dana Point, California last week. I was excited because I had been there once before in 2000. That's when I was into surf kayaks and Steve Boehne makes a really cool sit on top wave ski.
I actually went surfing with Steve and his crew at San Onofre, California during that visit and absolutely froze my butt off. This visit was different. It was mainly to see what he had for his line of Ku Ku Hoe stand up paddle boards and paddles.
I shot a short video so you can see what they had in the store. I was there for about an hour and every person I noticed come in the store was looking at the stand up paddle boards. I didn't see anyone browsing the regular surfboards and I think a couple Infinity stand up boards were sold during my visit.
Check out the video I shot at Infinity Surf:


(click thumbnail to launch video)
Here are some pictures:
Infinity Surf Shop - Dana Point, California - An adult candy store for stand up paddlers [3:02m]:
Download
Infinity Surf Shop - Dana Point, California - An adult candy store for stand up paddlers [3:03m]:
Download
Related posts