December 4th, 2007 by edgardo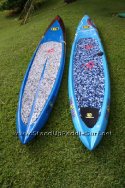 Dave Parmenter's brief run-down on the new C4 waterman VORTICE XP Karel-built Carbon race board:
I took out the C4waterman VORTICE XP board, the CARBON 21-pounder. After paddling about 6 miles in light winds and flat small seas, I ended up with the following impressions:
- This new molded model is very fast. The compression needed to keep it going at half-speed is comfortable, and should make it a very popular cruising board, aside from its racing intent. Wind was light, trickling in from the SE at 3 or 4 knots, just enough to set up some small ruffles and 'cat's paws'. Headed into the wind, ending up about 1 mile out from Pokai Bay. Once the board was turned downhill back toward Makaha, it really just took off, even though the wind was light and the surface just lightly ruffled. The speed increase was noticeable, and the hull started to sing in that way we all know when you have a fast planing surface. Built and tested fast in rough seas it was great it work so incredible in these conditions.
- This new Vortice feels more stable than the original prototypes . The added buoyancy seems to have improved the board. It can now be paddled from further up (in flat water or light airs) with better handling characteristics of the original prototype Board.
- In calm conditions and/or paddling into a light headwind, the new Vortice appears to possess good yaw characteristics. You can take 5 good, hard strokes on one side before the nose even budges a degree or two opposite. Todd's design characteristics were great, the design creates a backpressure on the outline and helps keep it going straight. It is also very easy to nudge the nose this way or that with a little hip English…
+ Fins will be key to find the perfect match of conditions and they quiver we have designed will address this perfectly.
In summary, this new model is light, fast, and a breeze to paddle. It eats up little chops, and doesn't take a lot out of you to keep it going. You feel lower to the water, and thus seems far easier to crank it up with high RPM strokes when necessary——– Looking forward to some windy days soon and rough conditions will allow us to crank it up on some downhill flying. Order early!!!
MORE::::::::
14'0" C4waterman XP 'VorticeXP' Elite-Class Racer
Designed by: , Dave Parmenter Todd Bradley and Brian Keaulana
(Built by Karel Tresnack)
Round Pintail
Width: 26.62
Thickness: 7
Board weight: 21
Custom Colors and designs
Fin array: Single box fin; rudder-type fins available for both standard and kelp conditions.
Rider guidelines: Designed for advanced SUP paddleboard racing, distance or short-course sprint. Can support expert paddlers up to 200 lbs.
Construction: This elite racer is constructed in a two-part mold designed and built by Karel Tresnak. Hollow structure is composed of carbon fiberglass, Kevlar and epoxy resin, and ribbed longitudinal ultra-light foam spars.
DESIGN NOTES: The "VorticeXP" is a molded version of the fastest SUP paddleboard we could come up with in 4 years of races in Hawaii, and is intended to be the foundation of a 'stock' class in the increasing number of races held in the Islands. This ultralight composite racer sports twin concaves running throughout the bottom, which increases both hull speed and stability; up top, the scooped out deck lowers the paddler's center of gravity while boosting the mechanical advantage of a shorter paddle shaft. The bottom rocker was honed in the gale-torn Molokai Channel, the gold standard of every paddlesport race on Earth. If you're into racing on and skipping effortlessly on calm water and/or want to 'railroad' open-ocean swells one after another like you scarf M & Ms, then book a test flight on the XP "Vortice."
14'0" C4waterman'Vortice"
Designed by: Dave Parmenter Todd Bradley, and Brian Keaulana
(Boardworks)
Round Pintail
Width: 27.25"
Thickness: 8
Board weight: 28
Custom Colors and designs
Fin array: Single box fin; with rudder-type fins available for both standard and kelp conditions.
Rider guidelines: Beginner up to 180 lbs; intermediate and advanced up to 250 lbs.
Construction: Epoxy lamination with a 1-lb EPS core sheathed with 1/8" Divinycell high-density foam, compression and heat molded to form a monocoque-style fuselage.
DESIGN NOTES: This model was designed to be a 'general purpose' race or touring SUP paddleboard. Starting with the same basic chassis as the XP "Vortice," it has been slightly widened and adapted to the molded-composite construction used to manufacture the rest of the C4 quiver. The double-barrel concaves and sharp rail chines leave the water no where to go but off the tail——-in a hurry. The result is a light and strong paddleboard that is compatible with most intermediate to advanced paddlers, fast enough to win races but easygoing and stable enough to cruise along the coast for physical training or sightseeing.
Related posts