January 15th, 2008 by evan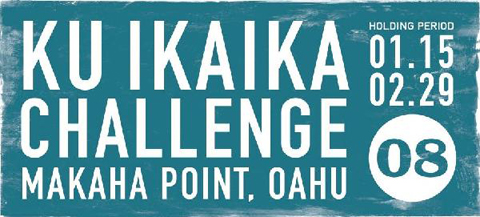 INVITEES:

Archie Kalepa
Bonga Perkins
Brian Keaulana
Bruce "Cito" DeSoto
Craig Davidson
Dave Kalama
Dave Parmenter
Duane DeSoto
Ikaika Kalama
Jamie Mitchell
Jamie Sterling
Kamaki Worthington
Kelly Slater
Lance Hookano
Leleo Kinimaka
Luke Egan
Mel Puu
Raimana Van Bastolaer
Rob Machado
Robby Naish
Rusty Keaulana
Titus Kinimaka
Tom Carroll
Vetea "Poto" David


16 TRIALISTS:

Buzzy Kerbox
Chris Mauro
Chuck Patterson
Derek Doerner
Ekolu Kalama
Garrett McNamara
Kainoa McGee
Kalani Vierra
Keone Downing
Keone Keaulana
Kyle Mocaizuki
Noah Johnson
Nolan Keaulana
Tiare Lawrence
Todd Bradley
Tony Moniz




QUIKSILVEREDITION KU IKAIKA CHALLENGE
Presented by C4 Waterman & Red Bull
The world's first big-wave stand up paddle (SUP) surfing event.
A benefit for the Junior Lifeguard Foundation on the West Side.

DATE:
January 15 to February 29, 2008.
To be held on the day when wave face heights reach 20 feet.

VENUE:
Makaha Point, West Side Oahu, Hawaii.

FORMAT:
32-man format featuring the world's top stand-up paddle surfers (24 invitees and 8 trialists from a 16-man trials division to be held on the same day).

PRIZE MONEY:
$4,000 donation to the West Side's Junior Lifeguard Foundation will carry the event winner's name. Surfers will share equally in $11,200 prize money ($350 each).

STAGE SET FOR WORLD'S FIRST
BIG-WAVE STAND UP PADDLE SURFING EVENT

Holding Period Begins January 15 to February 29, 2008

HONOLULU – (January 14, 2008) – The official holding period of the QuiksilverEdition Ku Ikaika Challenge, presented by C4 Waterman and Red Bull, will get underway tomorrow, January 15, and will run through February 29, 2008. The QuiksilverEdition Ku Ikaika Challenge is the world's first big-wave stand up paddle (SUP) surfing event and will be held at Makaha Point, on Oahu's West Side.

The QuiksilverEdition Ku Ikaika Challenge will be held on one day when wave face heights reach 20 feet.

In the spirit of community, as opposed to competition, the event will be a benefit for the West Side's Junior Lifeguard Foundation (JLF), with $4,000 of the $15,200 prize purse being donated to the JLF on behalf of the event winner. The remaining $11,200 will be equally split among the 32 surfers in the main event with each rider to receive $350. The main event will consist of 24 invited surfers plus eight surfers who advance from a 16-man trials.

The concept for this year's event was developed by C4 Waterman co-founder Brian Keaulana, who wanted to showcase SUP surfing at the historic venue of Makaha while also giving back to the local community. It was embraced as a natural fit for QuiksilverEdition, a brand built upon adventure, commitment, endurance and style – key components of SUP surfing and the waterman's lifestyle.

Stand up paddle surfing first surfaced on the shores of Waikiki back in the 1940s and '50s. The original Waikiki Beachboys blended their favorite sports of outrigger canoe paddling and surfing, utilizing a canoe paddle to both paddle and surf while standing. It was an adaptation made for convenience as it afforded the Beachboys a better view of the Waikiki surf lineup where they assisted tourists in learning to surf and took their photos while doing so.

The sport has enjoyed a rebirth in recent years and has been given a high-energy, modern-day spin: big-wave riding. Utilizing a paddle that is today specifically designed for SUP, surfers maintain an upright position while paddling out to the lineup, paddling into the waves, and then surfing them to shore. The paddle is not only a tool for navigating the lineup, but is also critically employed throughout the surfer's maneuvers on the wave.

"Stand up paddle surfing has brought the biggest injection of energy to the surf industry in at least 15 years," says Glen Moncata, Vice President of Quiksilver for Hawaii and the Pacific Basin.

"It's not just surfing with a paddle. It's about embracing the sport's origins and that authentic spirit of adventure that has long drawn man to the ocean, and that's what makes it a great fit for QuiksilverEdition."

"Makaha is where it all began," says Brian Keaulana, of C4 Waterman. "From the Makaha International that opened surfing to the world 50 years ago, to the first ever stand up competition – here at my father's (Buffalo Keaulana) contest four years ago. This is where all ocean activities exist, so it's full circle back to Makaha."

###

Media Contact:
Jodi Wilmott, Ocean Promotion, in Hawaii
Cell: (808) 258-8533
Email: oceanpromotion@hawaii.rr.com

About QuiksilverEdition:
QuiksilverEdition's commitment to stand-up paddle surfing is multi-layered involving event sponsorship, athlete development and design & innovation. Some of the planned events include SUP clinics in Florida and the Great lakes, open event fundraisers in Laguna Beach and Long Island, NY and The QuiksilverEdition Molokai to Oahu Paddleboard Race. QuiksilverEdition has assembled some of the top stand-up paddle surfers in the world including Bonga Perkins & Jamie Mitchell.

QuikSilverEdition, a division of Quiksilver Inc, is inspired by the waterman lifestyle. Whether surfing, paddling, canoeing or just spending quality time with family or friends talking story, QuikSilverEdition is a great looking, comfortable and stylish compliment to the best moment of our lives. QuikSilverEdition is a premium sportswear brand built for the man who is looking for a more refined alternative to today's youth-driven surf companies. It is an authentic brand that embodies the rich heritage of Quiksilver's legendary wave and mountain culture.

About C4 Waterman:
Founded by Hawaii's Brian Keaulana, Todd Bradley, and Mike Fox, C4 Waterman brings together over 100 years of ocean experience to create the C4 Waterman brand of wave-riding tools and equipment. Sharing a passion for ocean sports, the drive to excel and a desire to share the waterman's spirit, C4 Waterman's state-of-the-art paddles, stand-up boards, paddleboards and accessories are the modern evolution of the ocean-based lifestyle that originated in Hawaii.
Related posts