January 22nd, 2008 by evan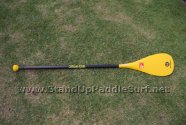 I love going to the C4 headquarters because I always get a chance to see the newest stuff coming out. I've watched Todd since I met him early last year work on an adjustable length paddle and was stoked to see it's actually going into production.
The paddle has an aluminum shaft.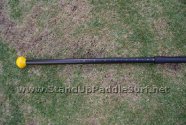 It has a fiberglass blade.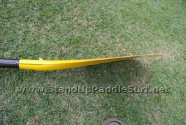 On the blade is a drain plug to let out any water that may get in during use.

The handle is an orb shaped grip which is pretty interesting to see. This removes the handle misaligning when adjusting the shaft.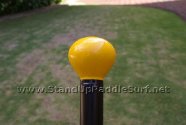 The cool part is how the paddle shaft adjusts in length. It's kinda like an adjustable floor mop. You twist the top part of the shaft counterclockwise a bit and then move the shaft up or down to adjust the length. Then you twist it clockwise and it's set in place. The minimum length is 60" and max is 82".
I've been playing between different length shafts and the difference between a really short 36" paddle to sit down and paddle my 10' board with my 5 yr old son holding onto my shoulders to a 48" paddle to knee paddle with to my 75" cut down blade paddle. Of course there are the other paddles btw 77" – 82" also.
This adjustable paddle solves the length issue. If I want to knee paddle, just twist, turn and now it's 60" long. Time to stand up to get back out, now it's 77". Time to go in and paddle for a while, now it's 80". This thing has endless possibilities.
Related posts