April 7th, 2008 by admin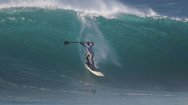 Steinlager Shaka Long Series Results From Sunset
April 7th, 2008
Sunset Beach, Hawaii
The Steinlager Shaka Longboard Series was completed this past weekend in some wild and wind blown surf at Sunset Beach with wave heights reaching twelve foot faces at times.
Over 90 surfers from around the state showed up to brave the cool north winds and shifty peaks and while some survived, a half dozen not so lucky ones went home with two piece souvenirs as the power of Sunset took wrath on those competitors.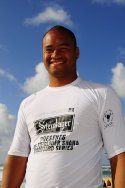 As for those in luck, like Waianae's Kamu Auwae who had a great weekend, the Hawaiian warrior, who really hadn't had a chance to practice at the break, came away unscathed with a win in the Standup Paddle division as well as a second place showing in the Pro-Am longboard.
Auwae, who for three back to back heats, began to tire, his strategy paid off as his Pro-Am semi final started to put the effects of arm cramping into play through back to back finals.
Going back in for the SUP finish, he put together two high score waves as his theory got him a win and enough energy to muster a second in the Pro Longboard final.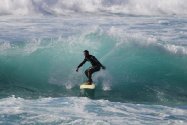 Ironically, Ikaika Kalama, who usuall dominantes the SUP scene on the north shore, he took home a win in the Pro Longboard final which even surprised him. Motivation to do more longboard events throughout the Steinlager Shaka Longboard Series.
Rounding out the Pro-am were Kai Sallas from Honolulu and Koa Enriquez from the Big Island.
In the Standup Paddle, Dave Parmenter from Makaha (finished second), Leleo Kinimaka from the Big Island (third) and Nolan Martin (fourth).
Sunday, the amateur divisions were completed. Winners include Jackson Hollingworth (Menehune), Nelson Ahina (Juniors), Keoni Duey (Men). Calen Barcena (Masters), Kelvin Pascua (Senior Men), Michael Lorne (Grandmasters), Soyu Kawamoto (Senior Grandmasters), Megan Gordinez (Girls), Leah Dawson (Women), Betty Depolito (Women Masters).
Next stop on the Steinlager Shaka Longboard Series May 31, June 1st at Kakaako Beach Park.
Related posts