May 21st, 2008 by evan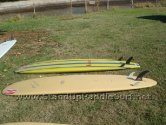 A month or two ago I met up with Teene F and Shawn M out in Makaha to demo the Surftech Takayama 10'3". Shawn's friend came with him and got some awesome Hawaii weather. I had already tried the Surftech 10'7" at Pono Bill's big board test and fell in love. The first day of the board test was knee high waves so it was hard to tell but the second day we went to Kanaha and got some great head high surf and the board just came alive.
Step on the tail and it turns like a short board. Run to the nose and camp there all day. This board was impressive. I wanted to see if I could get on the Takayama 10'3" and was fortunate to hook up with Teene. I took out the Tak 10'3" at Rest Camp in Pokai Bay Waianae. The conditions were nice and waves were chest high. The 10'3" turned out to be not enough volume to ride comfortably at 220 lbs. Now, a better surfer can do it however I wanted a little more stability. So far the Tak 10'7" is my favorite SUP in the Surftech line.
Related posts