June 8th, 2008 by evan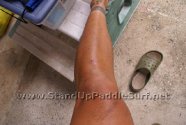 I used a short leash a couple weeks ago on the north shore and really liked it. I think the leash was 7' or so and it made the board way easier to retrieve and seemed less in the way. I liked it so much I went and bought one the other day. I measured the 7' Da Kine leash which turned out to be a tad under 9 ft when stretched out. I thought that length was perfect for my new 8'9" Blair board. I was wrong.
I went for a morning session on the weekend. At 7 am, there was only 2 people out at Old Man's and both of us were on stand ups. The other stand up was Tony DaKine who I'm glad to say I finally met. Tony was on a Foote 11'er. It was tiny and I was not paying much attention because it was so small. I caught a small wave and sometime during the way out I hit whitewash and jumped over the front of my board because I lost my balance. This is not anything new as I do this all the time.
This is where leash length comes in. I guess the leash wasn't long enough or it got stuck on something. My foot didn't make it over the front of the board and I hit my shin hard on the nose of the board. I didn't think much of it except that my shin hurt like hell and couldn't understand why it was cut up a bit. Later I found out why. My shin ended up cracking the nose of the board. I noticed it when I was in the water looking at my board and I saw hair coming out of the nose. That was my leg hair. I ended up making a small 1" crack in the nose and after I picked out the skin and dried it out I just put 2 coats of epoxy to seal it up. I also went to get a longer leash.
Related posts