September 9th, 2008 by evan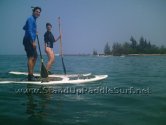 Here's a video of my cousin Dylan and his girlfriend Morgan trying out stand up paddle surfing for the first time at Puena Point. This is a while ago. I think this is the first time that Morgan has been on a surfboard. She's from the 'mainland'.
My cousin is always a good sport. After this we went to eat at Stortos and then took a nap because we were so tired.


(click thumbnail to launch video)
Related posts