September 10th, 2008 by evan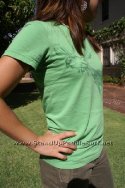 My wife got one of these surf inspired shirts and wanted to write about it so here it is:
I was so thrilled to receive The Ryde t-shirt in the mail! When opening the package and taking out the shirt I noticed immediately the quality of the shirt, the color was vibrant and the material was soft. I couldn't wait to put it on and feel it against my skin. Upon putting it on, I immediately noticed that the shirt fit perfect to size and the material was very soft and comfortable. Because I chose a green color, I wore it on Earth Day. Many people complimented me on the shirt and design of a bird blowing air around the shoulder area. It's a very simple shirt that can be dressed up or dressed down for the work day. I wore it to school with jeans, then put on some slacks and wore it with a blazer for a business function in the evening.  I looked very trendy in both circumstances! This is now in my pile of favorite t-shirts because of it's comfort, versatility and style.
I would recommend these shirts to friends and family because I love it myself.  There are so many cute and trendy styles to choose from. I spent hours going through the webstore to look at designs and color. I was even more excited to receive a Spring 2008 catalog with my order. No matter which one you choose, I am sure you will be pleased. In fact, you may want to get one for every day of the week.
Kari
Related posts