September 18th, 2008 by evan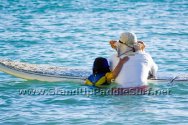 I think the best thing about my SUP is that I can share it with my family. I was at Kaimana Beach with my family and doing my best to get my oldest boy on my Blair stand up board. He paddled a bit and I also pushed him into small shore break waves. After that we ended up just hanging out, father and son on the board when I noticed someone taking some pictures of us.

A few minutes later a woman came over and introduced herself and said that she had some great shots and asked for my email to send them to me. These are the shots she got and they are priceless. This is definitely my kind of session, hanging out with my boy.
The photographer is Kristine Castagnaro who runs the Hawaii Council on Economic Education http://econed-hawaii.org/default.aspx, a 501c3 non profit educational organization. Check out her flikr site at http://www.flickr.com/photos/kcastagnaro/ Thanks a lot Kristine!
Related posts