March 2nd, 2011 by evan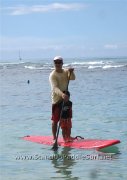 Here are some "in-action" pictures of the Surftech 10′6″ Blacktip stand up paddle board. The Blacktip is a great all-around, family board and the kids absolutely love it. This is the next generation version of the original 9′0 Blacktip which was also a fun board but the main difference is that the 10′6″ can actually catch waves. For this version, Surftech made it longer and a bit more narrow. The board is still very sta­ble.


My son Buddy with friends having fun on the Blacktip 10′6 (below):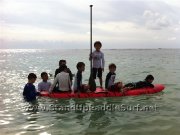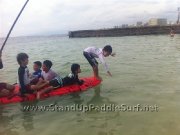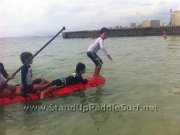 Me and my niece Noella (below):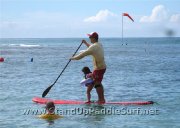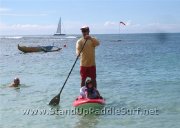 My brother in law John trying out the 10′6″ Blacktip (below):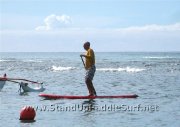 Here are specs and info for the 10′6″ Blacktip from Surftech's site:
Specifications

LENGTH: 10′6″ / 320.04cm
MID: 30″ / 76.2 cm
THICK: 5.6″ / 14.224 cm
FINS: Plastic
TECHNOLOGY: Blacktip

Description

Blacktip 10′6 SUP with Carry Straps – Check out this out! – BlackTip All Soft Surfboards – These Soft Surfboards are the all-around safest, strongest, most progressive surfboard ever developed. Constructed with the beginner in mind, but with great shapes that surfers of most all levels can enjoy. We added extra volume to the boards to make the boards paddle easy, stiffer core for speed, and a slick flat bottom to make the board stable and easy to catch waves with.

BlackTips are the ultimate value in a soft board!
Related posts