December 1st, 2008 by evan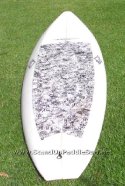 After a long wait, I finally got my Joe Blair 12′6″ SUP race board. It's way different than any of the other racing stand up boards that I've ridden or even seen. Actually, the closest one to this would probably be the Jimmy Lewis 12′6″. But the Jimmy Lewis 12′6″ is much thicker, the rails are different and the outline is different. Some of the other ones almost have a kayak type look, or paddleboard type look and feel. But to me, this one to me has more of a surfboard feel.

Joe has an interesting background coming from making windsurfers and shaping for some of the big names like Dick Brewer. He also shaped windsurf slalom boards. So he added all of those ideas into this board.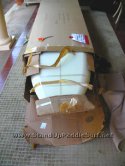 Christmas comes early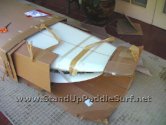 Now it needs to be unpacked

I've been waiting for this board for probably about 4 months. We've had a lot of delays but finally I got it. So once I unpacked it and got the race board out, I put it on to the lawn to take some pictures of it. It was really windy on the day that I got it and I think the gusts were probably upwards of 25-30 mph. I took pictures of it on the top and turned it upside down to take pictures of the bottom. Then the gust came under it and picked up the board probably about waist high, maybe 3 ft. or so, off the ground and it spun like 3 times and then hit the concrete and landed on a wall.
I thought, "This is gonna be really bad." I thought it was gonna be broken but what ended up happening was there were only a few scratches, maybe the size of a quarter so there were no cracks in it. Good thing I didn't put in the fin. That probably would have been broken. I'm pretty surprised that there were no dings and no major damage. The scratches can be easily taken out with some sand paper. For a custom board, Joe's making a pretty solid product.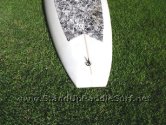 The board has a square tail that has an interesting slope on it. I think that's the resemblance of some of the windsurfers that Joe had shaped before.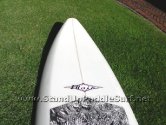 It has this diamond type nose. It's hard to tell from the picture, but that nose is really cool.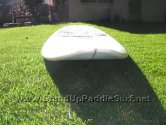 In the picture above, you'll see how much nose kick there is just on the very tip of this board but for the most part it's pretty flat on the bottom, I mean the rocker is pretty flat. There's also quite a bit of concave that runs through this nose which is different than a lot of the other race boards. A lot of the other race boards have this displacement type hull, almost like a boat hull in the front, so it's way different. I'm not sure but I think this is one of the reasons it feels more like a surfboard to me.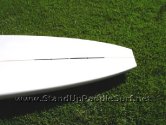 The board is running a single fin. Joe initially put a fin box in there because he thought he wanted to run the fin further up but after testing it, realized that "maybe we should put it back" and then he installed the 2nd fin box. This gives us a lot of room to adjust fin placement since this is a prototype board.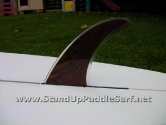 Joe also sent me a small fin, about 6 inch or so. It was interesting because the fin looked way too small to do anything. But on this board, the fin actually works totally fine. I didn't have any problem with it, with the board wanting to wander when I was paddling and there was a lot of side winds coming at me. It was not that hard to keep on track and keep going. And what Joe was telling me was that, he would take the fin off if he could, because going downwind and when you're trying to go fast, the fin only creates drag. So you need it to a certain extent to keep going straight but it's not like when you're surfing on a wave and you need this big fin to hold your rail in the water, because you're not really going to do those types of turns. I'll try the 4.5″ fin once I get this board dialed in.
I didn't get a chance to take it out on the first day I got it. But the second day I did and I was only able do to it on a short run just before I had a meeting. I figured, I'm gonna take this board out to Kahala, go around Black Point, then around Diamond Head and finish at Kaimana Beach. The last time I went out, I took the F-15 15′ sup and went from Wailupe, which I was told is 5 miles from Kaimana Beach and then Kahala is supposed to be 3 miles from Kaimana Beach. I can finally check that accuracy now that I got my new Garmin Forerunner 305 GPS watch but more on that later. The run took me an hour and 9 minutes to do in light winds and no waves. So I figured if I could do it from Kahala to Kaimana Beach in an hour, I'd be fine and I'd make it to my meeting on time.
Well, I was surprised because this is a 12′6″ board, in my mind, it shouldn't be faster than a 15′ board but what I found out was that I could drop in little bumps way easier on this board for some reason than the others that I've ridden. I don't know why. I think a lot of times when you paddle this strong and you get this really strong strokes you can stand further back on a lot of the boards on the plainning area and then drop into these bumps. But I just came back from a trip and I was kinda tired. I didn't really want to do that. This one was different, I could step on the front of the board and then get the nose to dropping like you would on a regular surf board. So it was very comfortable, real familiar type feeling.
Well, to keep the long story short, the conditions that day were really, really good. The winds were blowing upwards of 20 mph for the most part and was straight at my back until about Diamond Head. There were small bumps and swells but not really that much. My time from Kahala to Kaimana Beach was 52 mins. that day. When I take my splits, which is usually from Black Point to Kaimana, the normal range for me is about half an hour to 35 minutes. From the blinker buoy in Hawaii Kai to Black Point it's somewhere in the 50 minute range. Obviously, I'm not that fast right, I'm pretty slow. Normally my total time is about an hour and 35 minutes or so from where the blinker buoy is at all the way through. Anyways, if I took my normal time, it would have probably been about an hour and 10 minutes or so, taking into account that I was on a 12′6″ SUP, not a 15′ SUP. But with this board on that particular day I did it in 52 mins. So I know I cut off at least 10 minutes off my time but you got to take some things into consideration:
- The wind was blowing really well and at the right direction.
- I think the tide was also right, I wasn't fighting that.
- I was fresh for that whole period, I wasn't paddling the previous portions.
You can take all those things into consideration but my thought was: "How can a 12′6″ board be faster than a 15′ board right now?". And what I really need to do was get more time on the water and then try it out in more conditions.
I was so intrigued with this board from the previous run that I took it out again on another day to go surf at Ala Moana even though there was a major jelly fish warning. The tide was still pretty high, the waves were really small, maybe coming in only waist high or so and at Ala Moana Court, which is normally crowded, there was nobody out there. So I paddled out to Ala Moana Courts and ended up catching a number of waves on this board. The board doesn't surf like a regular board but it does catch everything in sight. I had a blast. And actually, if I changed the fin out and put the bigger fin inside, I think I could have probably surfed much better. But this board is fun, man! I got to get more time on the water with this thing but so far it's really been impressive to me specially for a 12′6″. Also it's really light weight. I don't know how he did it because he put a quarter inch stringer in there as well as 1½ lb. foam. Joe's got a winner with this one, that's for sure.
I had to try this board on a full Hawaii Kai to Kaimana run and did so a few days later. The conditions were awesome. Wind was 20 mph+ at my back for most of the run and there was knee to waist high swell to catch. Another long story short…it took 1:17. What? I had my fastest downwind SUP run on a 12′6″ and by 12 minutes? Needless to say, I was pretty darn excited. These race SUP boards are getting faster, that's for sure.


(click thumbnail to launch video)
Related posts