December 2nd, 2008 by evan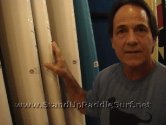 I ran into Jimmy Lewis at the Wet Feet expansion party a while back. I had my camera there and got this short video Q&A w/ him regarding his line of SUPs. Jimmy showed me his board models: the wave, the distance board and his "all-around" model. He shares how his 40 years of shaping boards has become his classic trademark in SUP…40 years, yikes…that's longer than I've been alive. His secret to success is simple: make boards that are easy and fun to ride. Jimmy openly admits not having much interest in distance paddling but is stoked on his all-around boards.

Hear straight from Jimmy Lewis in this video.


(click thumbnail to launch video)
Related posts