December 14th, 2008 by evan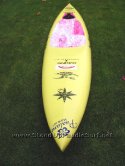 Here are some pictures I took of the Dennis Pang 12'6" race board which was made for Candice Appleby. I had to finish up and demo this board quickly so I could hand the board over to Reid Inouye from Heavy Water Magazine, who ended up buying it. I found out from Dennis that Reid's 15′ race board is almost ready and the 17′6″ race board (Guy Pere's one) is being prepped for demo.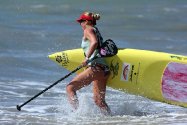 This was the board that Candice rode in the Battle of the Paddle in California Photo courtesy of Tropical Blends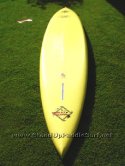 The board has a paddleboard type shape and Dennis is known for his craftsmanship in paddleboards.

It has a displacement hull type looking nose, really pointy at the tip

There's a pretty decent amount of nose rocker
The board came with a huge fin, about 11″ or so
I tried this board 2 times. One short run from Hawaii Kai to Kahala and a short period going back and forth in flat water Ala Moana. The Hawaii Kai run would have been longer but I went with a number of guys and Herbie Titcomb switched with me around Kahala and took off to Kaimana. He left me the Jimmy 12′6″ and there was no catching him. I was also with my brother who was on his first time so I didn't want to leave him all by himself either.
This board is great for lighter people, especially 150 lbs and under but for my 195 lbs and skill level it was hard to balance in the chop. There was also a pretty huge fin, must have been 12″ or so and that really locked in the tracking of the board which made it hard for me to get the tail to release when I wanted it to. I think a smaller fin would have been a better fit.
It's really intended for somebody who's much lighter then me, and somebody who's got good balance and skills although in flat water it was super easy to balance on. This board is super light. It feels like it's under 15 lbs. If it had a handle, I could easily lift it with one hand. It didn't have a leash plug which made me treat it differently in the open water because falling off could be the last I saw of the board in wind and swell.
The board has a displacement nose and shape and is very fast. It was super easy to get into the bumps and easy to stay on them. The part I had a problem with was adjusting my angle once the board caught speed due to the large fin. I think I could have gotten used to the tippyness (26″ or so wide with a lot of V) but just didn't have enough time on it.
Since the Dennis Pang SUP racers are all custom, this gave me a good idea of what I want Dennis to shape for me. I spoke with him a week ago and we're going to wait until I can demo the 17′6″ and then finalize a shape. So far we're considering 28-29″ wide and around 16′ long. I really want something that will work in very small swell (knee high and lower) and light wind (under 12 mph). I want the board to glide all day long. Maybe we'll do 15′ but hard to tell until I demo the 17′6″.

(click thumbnail to launch video)
Related posts