November 13th, 2010 by evan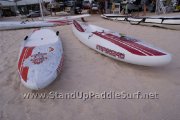 I first met Brian Szysmanski at the 2009 Battle of the Paddle in Dana Point but at that time the Starboard boards were under development and I couldn't show off the prototypes. I had a chance to reconnect with Brian at the 2010 Battle of the Paddle Hawaii. These Starboard race boards have been out for a while now I got a chance to video a detailed overview of the boards from Brian himself.

Here's a video of Brian with a couple of 12′6″ SUP race boards he developed for Starboard, the "Surf Race" and "The NEW".
Brian Szysmanski with the
"Surf Race" and "The NEW"
12′6″ SUP Race Boards



(click thumbnail to launch video)

Here's another video with Connor Baxter and Zane Schweitzer with their take on the "Surf Race" and "The NEW" race boards:
Connor Baxter and Zane Schweitzer with the
"Surf Race" and "The NEW"
12′6″ SUP Race Boards



(click thumbnail to launch video)
Kolaiah "Fuzzy" Jardine with the Starboard "Surf Race" 12′6″, Brian Szysmanski with his custom 14′, Zane Schweitzer with another "Surf Race" and Connor Baxter with the Starboard 12′6″ "The NEW"
Related posts