December 31st, 2008 by evan
I took a short video of this new custom shaped Joe Blair stand up board. It's a 10' board and what he did was he left the nose a bit full to keep some paddle power in there. There's a decent amount of rocker in that nose so that you don't curl. The tail pulled in quite a bit more than the blue 9'11" one that I had before.


A full nose for some paddle power

This board was actually made for a buddy of mine named Jeff. I just had it sent to me because there were a number of boards that were sent in the same shipment.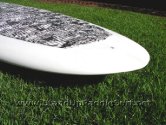 I has a full deck pad and rounded pin on the tail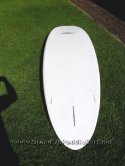 The bottom looks pretty sweet. There's a concave that runs through pretty much the entire board. And then there's something Joe did right around the area where the fin boxes are and calls it the "speed spot".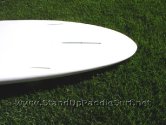 The board is running 3 fins


(click thumbnail to launch video)
Related posts