December 25th, 2008 by evan
This is the board I've been talking to Blair about for probably the last 3 months or so. I told him that I wanted the board, first and foremost, to be fast. I need to be able to use it on bigger surf and when I want to get out of the way, I want to be able to paddle. I want to make sections so I don't get pounded and get stuck on the inside.

The 2nd thing that I wanted was the board to be stable. Because I don't want to be falling off all over the place.
And the 3rd thing is the ability to turn and surf. Because typically on a bigger wave, well for me, I'm not doing a whole lot of turns, I'm just trying to get to the end of the wave and make it there safely.
That was what he was tasked with and three months later, here's what we got.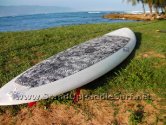 Profile of the Blair 10′6″ SUP board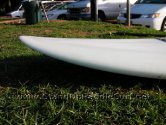 The Blair nose is always nice because it punches through the white wash with no problem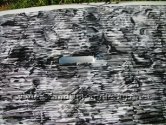 I like this new handle because it's fairly deep so I can get my fingers up to my 2nd knuckle and it's easy to carry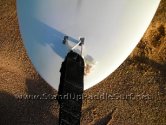 Dual leash plugs in the back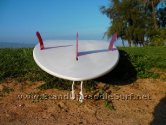 It's running three, 4½" fins
I tried this Blair board one morning a couple of weeks ago, the surf report was calling for 12′ to 18′ Hawaiian scale, 24′ to 30′ on the face which is just massive. That would really be a big swell and that comes a few times during winter. That's way too big for me so I decided to go to Puena Point with my buddy Kekoa and the waves ended up being much smaller. At the Point, it was probably at least double overhead. But where we were at, at the inside area of Puena Point, it was head high to 3′ or 4′ overhead on the bigger sets.
Here's what I like about this board, it's fast. This board have no problem making all the sections and keeps its speed. It doesn't have too much speed where I have a hard time making a turn. It turns on a dime, you leave the back foot in the right spot and you just ride it like a skateboard. It turns no problem.
Compared to the size of the Blair boards that I've ridden, this one turns the best, in relation to its size. It's a bit heavier than I expected but that helps when it gets windy and it gets choppy. That day it was just absolutely glassy, the water was really smooth and calm, but the North shore has these currents that seem to take a while for me to get used to specially with my balance.
The board is a bit tippier than the normal Blair board which for the most part is just as stable if not more than other boards out there and I believe that's because of the tail. The tail's pulled in a lot. But I think give it two or three sessions and I'd be able to get used to that.
I didn't try to nose ride it because there wasn't really an opportunity, but I'm really impressed with the way this thing surfs and the way it turns.


(click thumbnail to launch video)
Related posts