December 27th, 2008 by evan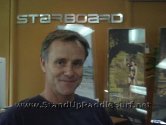 My short trip to Thailand to check out the biggest windsurfing company, Starboard, was quite an experience. I was able to interview Starboard's founder and 4-time windsurfing world champion, Svein Rasmussen. Svein talked about Starboard beginnings and how it has become what it is now. It's pretty amazing how his "40-year-cycle" theory on board design has led him to make a crossover between windsurfing and stand paddle surfing. Svein is sitting next to Margareta Engstrom who runs marketing for Starboard and is also a professional windsurfer and avid SUP paddler.

Watch this clip to see more of this interview.


(click thumbnail to launch video)
Related posts