January 19th, 2009 by clarise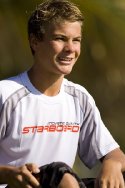 Zane Schweitzer 15 years old, Born and raised on the West side of Maui. Attends 9th grade at Maui Preparatory Academy High School.
Sponsors: Starboard, Maui Jim Sunglasses, Ion Wetsuits, Genr8, North Sails, Quicksilver Boardriders Club and SurfCo Hawaii.

He has been SUPing for three years, traveled for SUP adventures to Germany, Austria, Japan, and is currently on an SUP Photo Adventure in Northern Peru.
Check out how much equipment he has to bring for a windsurf, surf, and SUP trip. At 15 he has already traveled the world surfing and having a blast.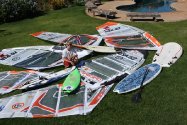 In his backyard preparing to pack up his equipment for his trip to Peru. And you thought you had a lot of luggage last time you traveled???

His goal is to be an excellent waterman, living life to the fullest every moment, and traveling doing photo stories. He started SUP as a great cross training sport for keeping in shape when there is no wind to windsurf, or too many people out on a surf break. Now he's hooked! He loves to explore hidden areas that most people don't go to.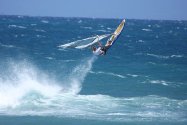 Windsurfing Hookipa on the north shore of Maui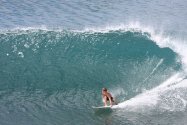 Honolua Bay, Fall 2008

He has been on the cover of windsurf magazines, featured in videos, and SUP web magazines like StandUpPaddleSurf.net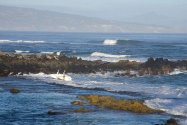 With his Starboard team mate Connor Baxter checking out the launch site to get to the waves on the North Shore of Maui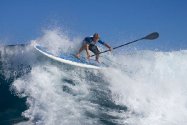 Having some fun on the waves without having to fight any crowds was the best part.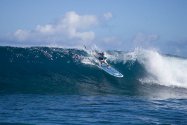 SUP is such a great way to explore waves that don't have easy access to surf. You can just paddle up to spots easily.

Over the summer he even did an island crossing from Maui to Molokai and with his two teammates they raised over $1800 for the underpriveledged kids of Molokai.
Look for more cool photos when he gets back from Peru. Until then, see you out in the water.
Related posts