May 9th, 2009 by clarise
The 2009 Whitewater Stand Up Paddling Championship will be held May 30 & 31 in Glenwood Springs, Colorado. This one of a kind event will feature the world's best river stand up paddlers displaying their paddling prowess on the snowmelt swollen Colorado River. This new and innovative competition is up for grabs. Local CO river SUP guru and owner of the Aspen Kayak Academy (www.aspenkayakacademy.com/index.htm) Charlie MacArthur is one of the favorites, but the competition promises to be fierce. Pro kayaker and renowned extreme sports athlete Dan Gavere of Werner Paddles (www.wernerpaddles.com) will be a force to be reckoned with for sure as he is one of the innovators in the new sport of whitewater SUPing. Also a handful of Hawaii's top stand up paddlers will be traveling to the mainland for the event. C4 Waterman (www.c4waterman.com) will be well represented at the competition with a number of their SUP team heading to CO for this unique test of skill.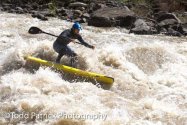 Charlie MacArthur charging the Colorado River on his C-Mac ATB
On Saturday May 30 there will be a SUP demo at Blue Lake near El Jebel from 10:30 – 12:30. Come check out this free demo to try the latest and greatest SUP equipment – including C4 Waterman's new C-Mac ATB board. This new board is one of the world's only whitewater specific SUP boards. Charlie, Todd Bradley and some of Hawaii's other world class SUPers will be on hand to give pointers to all comers.
The main event starts Sunday with a 6 mile downriver race on the Colorado River from Grizzly Creek to Two Rivers Park in downtown Glenwood Springs. This fast and furious whitewater balancing act will feature heats of 5 paddlers launching from the eddy at Grizzly (the take-out for the Shoshone section of the CO River in Glenwood Canyon) with the fastest paddler winning this segment of the championship. Next up is a timed "slalom" competition starting at the Two Rivers Park. Spectators should be plentiful as the championship is taking place in conjunction with the popular Yagatta Regatta (www.coloradoyagattaregatta.com ) – a popular annual river festival in Glenwood Springs. Competitors will race from the park to above the famous Glenwood Springs Whitewater Park (glenwoodwhitewaterpark.org ). This portion of the contest will involve catching a number of pre-determined eddies on both sides of the river.
The championship will culminate with a surfing contest (at approx. 3PM) on this world famous wave. Each competitor will get a number of rides with the best score counting for each surfer towards their final results. The champion(s) will be determined by a point system with scoring accrued during the 3 events.

Dan Gavere rippin' up the Glenwood Springs Wave

After the surf contest, the SUPers would head back to the Two Rivers Park to celebrate during the Yagatta Regatta. This massive party features bands, food booths, thousands of river-stoked attendees and now will include the 2009 Whitewater Stand Up Paddling Championship's award ceremony. The first-ever whitewater stand up paddling champions will be crowned during this riverside rage. Don't miss your chance to be part of history!

To get a quick visual of whitewater SUP, check out the video below. We'll see you on the river!


(click thumbnail to launch video)
You can email paultefft@comcast.net or call Paul at EnviroAction Productions @ (970) 923-3955 for more information on the world's first whitewater stand up paddling championship. Also, please contact Paul if you are interested in volunteering as a safety kayaker or as a member of the land based safety team. For more beta on the Blue Lake SUP demo contact Charlie MacArthur at charliemacarthur@comcast.net or call him at (970) 618-2295.
For the complete event details, download the info sheet:2009-ww-sup-championship-competitor-info-11
Related posts