May 11th, 2009 by evan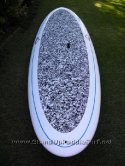 I had a chance to interview Joe Blair with his new production, the Blair 10′1″ SUP board.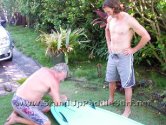 Joe Blair inserting the fins with Dan Gavere looking in.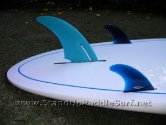 Blair 10′1″ with a 3-fin set up

Joe introduces his new model, a sandwich-style built board. It's 10′1″, 32 ¾ inches wide and 5″ thick. He designed this board strong enough for bigger guys, for people to learn on, for surfing and possibly for rental purposes.


(click thumbnail to launch video)

The Blair 10′1″ has a thin, three-fin set-up especially made for this board; it has very soft rails with an edge to drive off for control. The edge and the rails make the board easy to maneuver while the nose and concave helps in catching waves. Blair also said that this board is great for nose ride and even beginners can have fun in the water using the Blair 10′1″.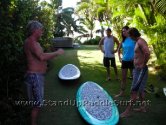 Joe Blair with his new 10′1″ SUP boards and some friends.
Related posts