May 26th, 2009 by clarise
Martin Daly's CAPTIANS LOG 5-2009
INDIES TRADER III MENTAWAIS, INDONESIA
www.c4waterman.com
www.indiestrader.com
I've seen a lot of surfers ride shallow reef waves off my boats in the Mentawais over the years, but I have never really seen anyone on a standup paddleboard come out here and tear it up. Well, maybe Laird Hamilton, but that guy is like an action hero… he doesn't really count!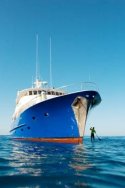 Indies Trader III proudly showing herself

When a crew of stand up surfers decided to come on a boat trip and surf serious, heavy waves, I was pretty skeptical to say the least. My good mate Bruce Raymond (C4 Ambassador) and the C4 Watermen guys Todd Bradley, young ripper Kekoa Auwae, Mike Fox and Hawaiian waterman legend Brian Keaulana have just spent 2 weeks onboard Indies Trader 3 and we have just had a remarkable trip.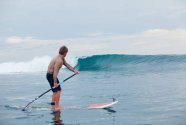 In Awe of the Perfection Served up to the C4 Crew

Stand up boards seem best suited to waves where there are only a few surfers in the water. (they can be a pain in the ass in a crowded lineup, they even give longboarders grief!!) The Mentawais are perfect for that because almost every spot we went to, there wasn't a single other surfer in sight. I didn't think the stand up guys would be able to handle more of the shallow set ups, but they charged what I consider to be some of the heavier waves out there. Lances Rights included. They also paid the price and copped their fair share of floggings…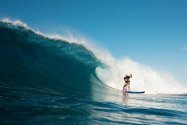 Bruce Raymond. No Stranger to Charging Deep on his new C4 9′6 SubVector, Driving to stay out of the Penalty box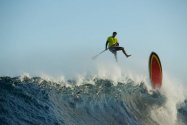 Who said You couldn't do aerials on a SUP, C4 Ambassador Kekoa Auwae Enjoying a birds eye view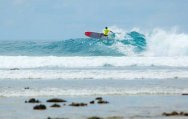 Kekoa Maximizing the entire package, and steering clear of the Mentawai reefs

One of the great things about the SUP boards was that some of the waves that aren't that fun paddling into, are great on a SUP board — particularly waves that stand up for a long time before they break – those that are really hard to catch. This opens up a whole new playground out here.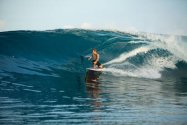 Todd "Pig-Dogging" with a Surgical Scalpel on perfect glass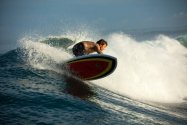 Martin and Indies trader delivers,…Todd Enjoying More types and Choices of waves to know what to do with.

One downside about SUP boards, is that they seem like a hassle to travel with. Luckily, the guys from C4 brought their newest SUB VECTOR range to test in the Mentawais. They didn't realize that I was going to confiscate their equipment before they left. Now we have the latest range of C4 Waterman SUP boards on all the Indies Trader boats.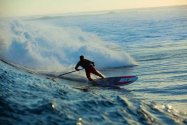 Brian Setting up once again for another long Drive down the line

It was an honor to have Brian onboard, Brian is one of the world's most respected waterman and lifeguards .He went out of his way to pass on his incredible knowledge of water safety and jet ski rescue techniques. . He trained all my staff on his same risk management course that he teaches to the government, private military and international rescue units across the globe. We spend many hours talking war story about maritime accidents and how they were dealt with and I learnt a great deal. Brian explained a technique for getting to your leash off when it stuck on the reef which is a real lifesaver.
Brian Keaulana, Point and Shoot

One of the surfers became ill and was complaining of abdominal pain. When it didn't go away after a day we determined with the help of our medical evac service that he probably had appendicitis and it was decided that we had to get him out immediately . We are proud to say that it only took 5 hours to get him to Singapore.
He flew out of Rokot on a chartered plane at 2 pm transferred to the SOS Learjet air ambulance in Padang and was on the slab in Singapore's Gleneagles Hospital getting butchered at 6.30. He's fully recovered now and our insurance covered the medivac, He was lucky.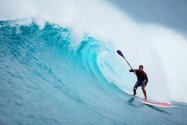 Kekoa looking preparing to drive the next section.

The weather in the Mentawaiis has been perfect, light winds , mainly northerly and sunny. The surf conditions have been exceptional. There hasn't been any really major bombing swells yet, but its been consistently head to well Over head high most days with a couple of solid pulses teed up for the C4 waterman Crew.
There is definitely less people around, there's a good vibe between the various boats and Life is GOOD
This is just a sample of some of the shots we have and there will be much more stuff to come including video footage of the entire trip Stay tuned to www.c4waterman.com and www.indiestrader.com
I'll let the pictures tell the rest of the story.
Cheers Martin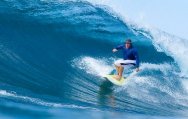 Martin shows he still has the Touch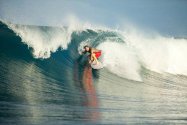 Mike Chasing the Back door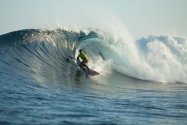 Kekoa makes it look so easy on the new 9′0″ bat tail, If you only saw the inside, Yikes!!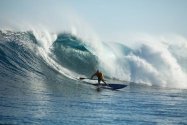 Bruce still charging after all these years, always stetting the bar for who wants to sit the deepest. Bruce Wins!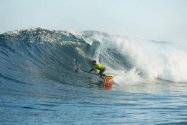 Kekoa Looking for the Perfect spot to throw some Buckets.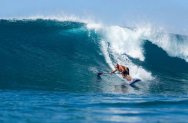 Bruce just can't get enough of his new C4 9′6″ SubVector. Can I try your new board now Bruce?? "No!!!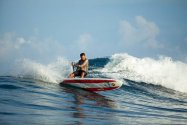 Brian Driving the new C4 9′6″ to the edge.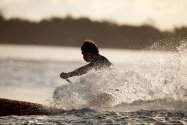 Todd going through his morning Stretching exercises on the New 9′9″ Slingblade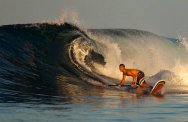 Surfing in the golden light at the end of another GREAT day. Sporting his new Mentawais Mohawk, I think Kekoa Smile says it all.

all photos courtesy of Dana Edmunds.
Related posts