May 24th, 2009 by evan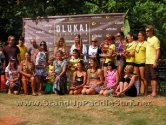 Mark Raaphorst from S.I.C. kept talking about the Olukai race that went on May 17 and 18, 2009 and it sounded like fun so I flew from Oahu to Maui to participate. I was excited because Maliko downwinders are legendary and I was ready for the action. Before the race weekend, I kept looking at the wind forecasts and got worried because the forecast was for a headwind and not the awesome 25+ mph tailwind that we see and hear about.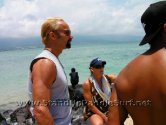 Mark Raaphorst from S.I.C. – 2nd Place in Elite Male Division

I have to admit that the race turned out to be the hardest paddle I've ever done and ever want to do. It was a beautiful day, sunny and blue skies but there wasn't any wind. In fact, there was a slight headwind when we first started out. I started the race pounding away when I realized that I would be out of energy in 5 minutes going at that pace. Once I paced myself, everyone started passing me. First, it was guys on 12′ SUPs. Next it was women on 12′ SUP's. The kids were already beating me and I was determined not to be last. My shirt was soaked with sweat. Enough complaining already…the food and people were exceptionally great. It was like one big family. Everyone was friendly and positive. They all looked way younger than their age. Donna Badome (Mark Raaphorst's wife) won the 50 – 59 year old category on a 12′ Ku Nalu SUP. She finished something like 20 seconds in front of me. For the last 1.5 miles, I was trying to catch her and could not do it. I wish she was on some super high tech 18′ machine that Mark shaped but she was on a stock 12′ Ku Nalu. I know she's a great paddler (she looks like a triathlete) so I don't feel that bad. At least she didn't laugh at me. Check out the video:


(click thumbnail to launch video)

Here's a photo recap of the race and events: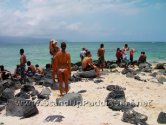 Spectators watching the finish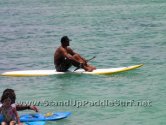 Junior watching for his son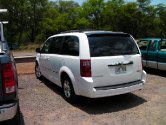 $7/day got me an upgrade from 2 door Yugo to this van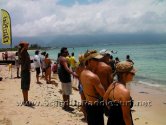 More spectators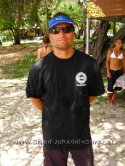 Dave Kalama – #1 in Male Elite Division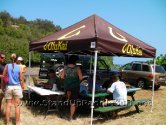 Sign in table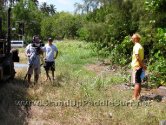 Ocean Paddler TV interviewing Mark Raaphorst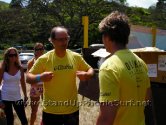 An excited paddler trying on his race shirt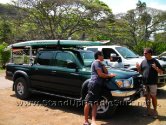 Pre-race strategy talk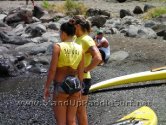 Maui Wahines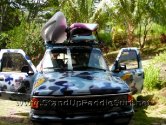 Full loaded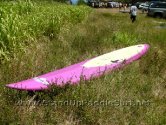 F-16 version 2 – This is what I rode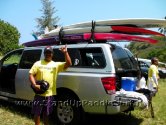 Sam Pa'e with his purple Vortice SP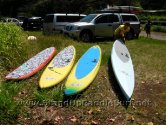 F Series: Left to Right – Ku Nalu 12′, F-14, F-16, F-18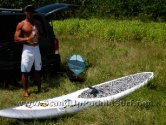 C4 Vortice XP and Vortice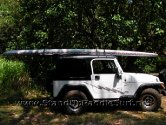 Kiwi Mark Jackson's F-18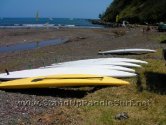 Naish SUPs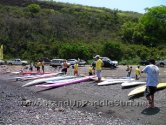 Weapons of the day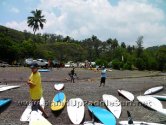 More weapons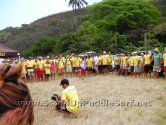 Pre-race Pule (prayer)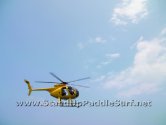 Picture taking helicopter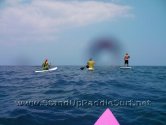 The first ones out to the water start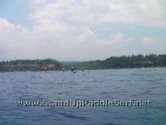 Paddling out to the water start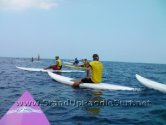 Waiting for the start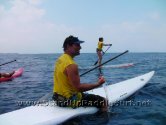 The closest I got to Dave Kalama during the race…he was out of sight in a few minutes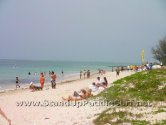 This is where you drop your board and paddle and begin to run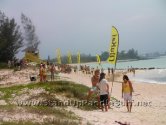 The finish line – after the 300 yard run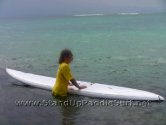 Happy to be finished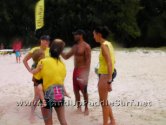 Aaron Napoleon (#3 Male Elite Division) happily talking story…doesn't even look like he broke a sweat even though he did the same race on an OC-1 the day before and placed 4th.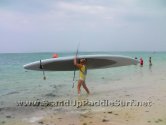 Morgan Hoestery after the race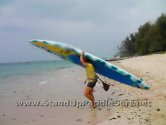 Carrying the board after the race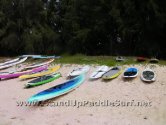 Boards galore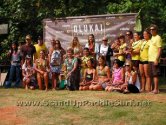 Women winners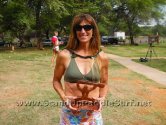 Donna Badome (Mark Raaphorst's wife) with her #1 trophy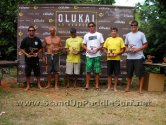 Male Elite Winners (They won money) – Left to Right: Dave Kalama, Mark Raaphorst, Aaron Napoleon, Scott Trudon, Alan Cadiz, Livio Menelau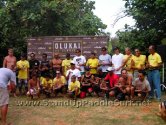 Male winners

Click on results image to enlarge
Download race results on PDF here:
olukai_09_sup-div
olukai_09_sup-overall
Related posts