June 9th, 2009 by evan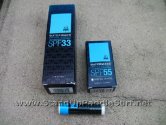 I normally shy away from the word 'best' when talking about products but I have to say it for Watermans' Applied Science Sunscreen. I've been searching high and low for a sunscreen that doesn't run in the water and won't give me eye styes. This is a review of sunscreen designed for your face, not for the body. I normally wear a long sleeve sun protective shirt to block the UV rays from my torso.

A couple years back, Harris Chang introduced me to Shiseido Sunscreen which I really liked until I started getting eye styes and narrowed it down to the sunscreen clogging my eyelash ducts. The Shiseido Sunscreen stayed on really well and I even bought a special cleanser to get it off my face. It was fairly pricey, in the $40 range or so but it stayed on for a long time in the water.
Since then I tried Bullfrog, Blue Lizard, Coppertone, Neutrogena, etc. I ended up settling on Vertra for roughly the last year because I liked their stick and started wearing a hat. The Vertra stick seems to work good although it washes off kinda easy and seemed to come off in the water faster than I expected. I liked it because it didn't run into my eyes or clog my eyelash ducts.
Around a month ago I got turned on to Watermans' Applied Science. I saw them because they were sponsoring a charity event and thought I'd give it a try. I'm glad I did. I think they're a fairly new company so it's still a bit hard to find here on Oahu. I think that will change soon, especially once water athletes start using it.
What I like about Watermans' is that you only need a very small amount. With my other sunscreen I tended to put on a thick coat to help it stay on in the water. With Watermans', I only use a very light coat because it stays on and if I put too much, I need a lot of soap and scrubbing to get it off. I'm using the stick on my nose, cheeks and forehead. I like the stick because it goes on dry and stays dry. They have a clear one and one with a skin tone color but I prefer the clear one. I wear light color long sleeve shirts and don't want the brown tint to get on them.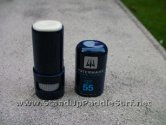 Watermans' Applied Science Sunscreen 55 SPF Stick

I use the cream for the rest of my face and neck and am always amazed at how well this stays on. This sunscreen lotion is different than others I've tried. It dries to a tacky like texture which is hard to explain until you try it. After that, it says in place for hours. I applied it in the morning before the Olukai Race, did the race, sweat like a pic, rinsed off and hung out until the late afternoon for lunch and awards. I didn't even get close to a sunburn. It's actually kinda weird because I noticed with my friend Kekoa that we didn't feel the normal heat of the UV rays on our face with Watermans'. I'm not sure if that's just in my head but this stuff works good.
You use only a small drop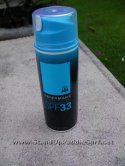 Watermans' Applied Science Sunscreen Lotion

I use the lip balm when I can remember although my lips don't normally get burned or chapped much.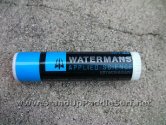 Watermans' Applied Science Sunscreen Lip Balm

Actually, Watermans' works so good in the water that I now use in on my boys. I was using the pink waterbabies lotion earlier but that tends to come off in the water fairly quick. I now use the waterbabies lotion on their arms and legs and the Watermans' on their face. So far, so good although it's harder to get young kids to scrub their face with soap to get it off.
There's a lot of info about SPF, water resistance, etc on their site. www.watermansappliedscience.com.


(click thumbnail to launch video)
Related posts