July 9th, 2009 by evan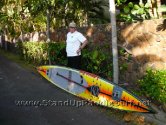 Pono Bill is the guy who runs the Kenalu.com, the Pono House blog, and goes by the avatar-PonoBill online. He is an interesting guy from the mainland who spends part of his time on Maui.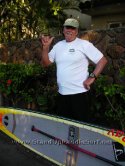 The rudder pedal steering system made by Stuey Campbell on the Penetrator 572 SUP board.
Bill posted on Rand's standupzone.com forum that he was coming to Oahu and wanted to hook up with other SUP enthusiasts since he would be here for a few days. He came to pick-up his Penetrator 572 board, which was shipped from Australia to Hawaii via ocean freight, and he was trying to figure out the transportation from Oahu to Maui. Finally, he ended up going on the now defunct Hawaii Superferry. I wanted to see if the hype about the Penetrator was real or not.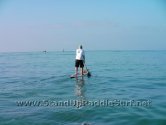 Bill on his Penetrator 572 going steady in flat water.
We hooked up that day and decided to do a downwinder from Portlock to Kaimana which is roughly 8.5 miles. It turned out that there was no wind and swell. This made it hard to tell how the board performs in windy downwind conditions. The day we met was the first day that I was back in the water after a few weeks of being sick from the contaminated water at Laniakea on the North Shore.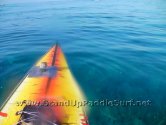 The front part of the Penetrator board with a GoPro camera mount in front.
Another interesting thing that happened that day was that I saw a shark as I was paddling. I looked to my right side and what seemed like 15 to 20 feet below, I saw a shark about my size. I stopped and the shark swam off. Bill said he saw the shark behind me. Anyways, more sharks see us than we see them.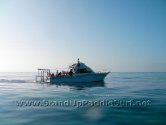 A dive boat with a cage at the back- going on a shark tour?
As a whole, this run was super slow. There was a bit of headwind toward the middle of the run, but I can't give a good gauge of this board's performance because it was not on typical conditions. But in flat water, the board was fast. It glides, it's easy to paddle, it's not hard on your body and wasn't overly tippy, at least in this instance. Add in some wind and chop and the I'm sure that will all change. It felt heavier than the F-18 and close in weight to the Bark 18′.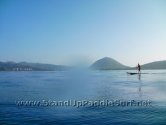 That's me paddling while Bill takes the picture
The total distance run took almost 3 hrs. just cruising and paddling slow. It was long but it was fun, basically because Bill had interesting stories. Most importantly, it was fun to spend some time with Bill and get to know him better. It is always interesting to learn from people and their experiences.
Here is the video that Bill and I took during this run.


(click thumbnail to launch video)
Related posts