August 4th, 2009 by evan
From a mother's viewpoint, Karen Baxter, proud mother of Starboard team rider, Connor Baxter, shares her piece on her son's latest achievement on the Molokai-Oahu Paddleboard race.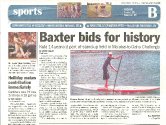 Connor lands newspaper sport page
I wanted to let you know how it felt from a mother's viewpoint – as well as someone who has been active in water sports.
Connor did it. He completed the 32 Mile Molokai to Oahu race – and created history. The youngest to ever compete and complete this event on any type of watercraft – Solo. His time was 6 hours and 56 minutes. His goal before the event was – first to complete it. And secondly – in 7 hours. Well he did both – and more.
He placed 1st in the 29 and under Age Division!!!!!!!!!!!!!!!!!!!!!!!!!!!!!!!!!
It was truly the most amazing, absolutely grueling event I have ever been associated with. After 4 1/2 – 5 hours of crossing the Ka'iwi Channel (about 24 miles) – the next 2 1/2 – 3 hours were the most tortuous. Those last 8 miles make you or break you. It's like putting the last 8 miles of a running marathon of 32 miles – all uphill. This long distance open-ocean race for stand-up and prone paddleboarders is considered the world championship of the sport.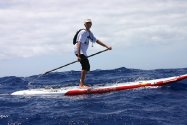 How much longer?
As we approached Koko Head from the north, Connor shouted to us on the boat – how much longer? I told him – "Only about 8 more miles – just a Maliko Gulch run and you are there." A Maliko Gulch run usually takes about an hour depending on your destination (Kanaha, Pier One, Harbor). About 15 minutes later Connor looked at us – exhausted and shouted "I am not moving". We all let him know he was moving – and doing great. Another 10 minutes went by and he was very frustrated and said again – I am not moving. This continued for about 30-40 minutes. And, Koko Head and Portlock looked no closer than when I first said he only had an hour left. What he didn't know was the current was now against him and although he was making progress – it was slow. In his mind 8 miles should be almost over and the finish line was still so far away. His frustration peaked – my stomach was in a huge knot in anguish at looking at him and knowing he has just completed about 5 1/2 hours of non stop paddling – and the finish line although so close – was so far away at this point. He knew he could not quit and mind over exhausted body – Connor got another "wind" – not a second wind – by this time it's more like a fourth wind! And started paddling hard again. Finally the harbor entrance was getting closer and he knew he could finish. Rounding the cliff very close and using the swells he made it around the point successfully. He then shouted to us as he realized – he still had another mile+ upwind (you will see from the photos attached). No time to think about it – just paddle his heart out – he caught some good waves and shot passed another competitor – and this spurred him on. Paddling again as if he had just started the race he was not only determined to finish – he was determined to stay ahead.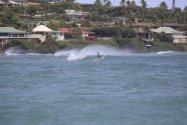 Connor paddling even harder
As Connor approached that finish line – the whole beach was shouting his name, especially the adults that completed it such as Ekolu, Chuck, Aaron – and I could hear the announcer raving about the Youngest person to ever compete in this race . I was still on the boat – with tears in my eyes – as this was truly one of the most proud moments in my life.
I watched our son for 7 hours paddle and never give up. This crossing threw a lot of conditions at him – currents, backwash, upwind, waves not great for glides, and moderate to light trade winds. Jamie Mitchell (8 time prone paddleboard champ of this event) was quoted as saying that the last third of the race took forever to get close, and it was definitely the toughest race of the last 3-4 years for him.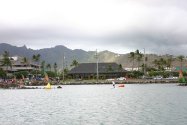 Paddling for the win
Connor knew he could do it – he believed in himself from the moment he decided to enter the race solo. And, he accomplished his goals.
As Ekolu stated in an interview – this is the Superbowl for paddling.

And Connor just made history!

I attached a few photos – in sequence from start to finish – thanks to Keith Baxter, Erik Aeder and Dan Fiske!!
Enjoy.
Aloha -
The Proudest Mom!
Karen
Related posts