August 12th, 2009 by evan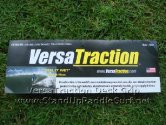 I initially heard about VersaTraction from Kainoa Beaupre a few months ago and he was raving about how this peel and stick traction for surfboards was going to replace wax, etc.  I didn't think about it again until talking with Curtis Miyashiro who explained to me how it actually worked and how good it was.  He showed it to me on his new Firewire board and I decided to try it on the nose portion of my new SUP's.  I have to say, I am impressed.
Curtis explained to me that the difference between VersaTraction and other peel and stick traction was that it felt just like wax and wouldn't give you nipple rash.  Now, nipple rash on a SUP is not common (well, for most people it's not), although it is for lay down surfers.  The thing that I really like about VersaTraction is that it has the same grippy feel as wax does but without the mess.  It's fairly inexpensive and is pretty easy to install.  This stuff if perfect to add grip to your SUP and especially the nose or tail.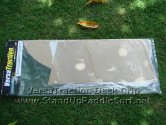 VersaTraction Longboard Kit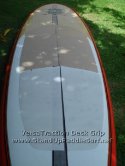 VersaTraction for Longboards comes with a lot of pieces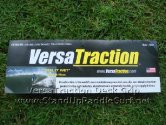 Label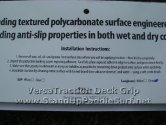 Instructions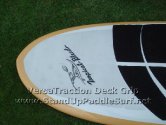 VersaTraction installed on a Tropical Blends Welo 9′6″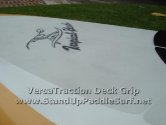 Another angle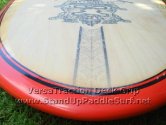 VersaTraction installed on a Starboard Element 9′8″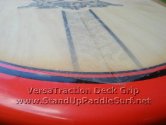 Close up view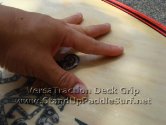 Feels like wax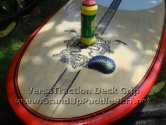 Comet used to wash off protective film after install
Related posts