October 2nd, 2009 by evan
Here's a delayed update from the Duke's OceanFest 2009 SUP Race held last August 23-29.  I was pretty excited for this race and trained for it by paddling a few downwinders a week.  Last year's conditions provided winds that seemed under 10 mph and I wasn't sure what the tide was.  My time to finish last year was 1:55 so I thought that if I could get anywhere between 1:40 to 1:45 I would be doing fine.  What I didn't realize, is how much better the competition would get.

I didn't get much video from this one but I'm sure someone else did. I was pretty focused on the race and doing my best.


(click thumbnail to launch video)
This year my brother decided to race with us and wanted to use my F-14 so I raced on the F-18 which turned out to be the right board for the day.  The wind was pretty consistent around 15 mph or so and we got a good tide.  The SIC crew and Mark Raaphorst flew over for this race and then left to the event in Holland.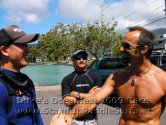 My brother meeting Mark Raaphorst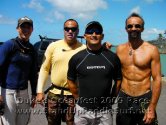 Darin Leong, Harris Chang, Randy Lui-Kwan, Mark Raaphorst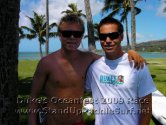 Slater and Tanner Trout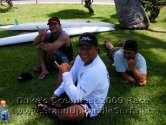 Scott Nagasawa, DJ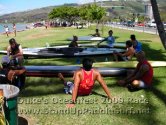 Waiting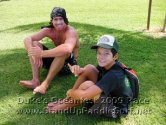 The younger racers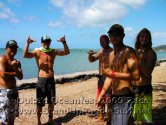 Shaka
The course was around 9.5 miles.  There were 2 buoys to go around, one at the beginning (blinker) and the other a hundred yards or so outside of the Duke statue.  Getting out to the blinker buoy is easy.  Rounding the finishing buoy is a chore.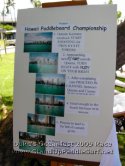 Race course
It wouldn't be a race in Hawaii without Sam Pa'e.  I have to get a picture of him at every race now.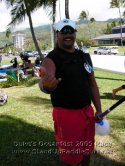 Sam Pa'e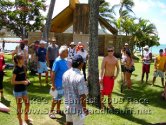 Race briefing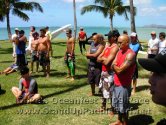 Participants
getting ready for the race
For some reason, I was really nervous during this race.  It also could be due to the caffeine I consumed in the morning since I normally don't drink coffee.  I don't know why, but my legs were shaking a bit and it was throwing off my balance.  I fell at least 5 times during the race.  My last fall was the worse one bc I was so tired by then that it was really hard to get back up.  That's pretty sad for a short race.  It's not like this was the Molokai Channel.  I was kinda disappointed with the falling.
For about 3/4 of the race I managed to stay with Doug Lock.  I'm not really sure how that's possible, especially since I paddled with Doug a few days before the race and he was 20 minutes ahead of me.  Doug was paddling a 12′6″ board and I was on an 18′er.  The big difference is that I was paddling as hard as I could to keep up with him and it looked like he wasn't even paddling at all.  Around Tongg's I fell and he pulled ahead.  That's when I decided to take a different route.
Since the wind was blowing pretty strong that day I had the strategy to cut inside around Outrigger Canoe Club and hug the shore so that the wind would be blocked by the buildings.  That was a bad move.  I should have stayed on course.
The thing that blew me away was that I paddled a personal record time at 1:34.  I beat my last year's time by 21 minutes and still placed 43rd overall.  Before I started beating myself up though, I realized that this was my best time so far and I should be ok with it.
The winner, Scott Gamble finished in 1:25…unreal.  He beat Guy Pere's 2008 time by 12 minutes.  Awesome!
Although the race was fun, I somehow hurt my shoulder and had to rest a few days.  I'm back in action now and need to get out there and get better.
Duke's OceanFest Paddleboard Race Results:
MALE STAND-UP Less than 12.6 ft
| Place | No. | State | Country | Name | Time |
| --- | --- | --- | --- | --- | --- |
| 1 | 1 | Hawaii | Us | KIMO MIRANDA | 1:25:32 |
| 2 | 98 | | | DOUG LOCK | 1:32:48 |
| 3 | 142 | | | ERIC OLSEN | 1:39:47 |
| 4 | 55 | Hawaii | Us | JEREMIAH WOZNICK | 1:44:04 |
| 5 | 86 | | | ROBERTO LOPES | 1:45:46 |
| 6 | 59 | | | SAM PAE | 1:52:18 |
| 7 | 61 | Hawaii | Us | SHANE SAKAI | 1:52:35 |
| 8 | 52 | | | SHANE OYAMA | 1:52:50 |
| 9 | 8 | | | MARTY SANTOS | 1:54:20 |
| 10 | 57 | Hawaii | Us | JUSTIN BEYERS | 1:55:37 |
| 11 | 54 | Hawaii | Us | CHAD BURGHER | 1:57:21 |
| 12 | 19 | Hawaii | Us | MICHAEL KUAKINI | 1:58:28 |
| 13 | 9 | | | JEFF THOMAS | 2:01:21 |
| 14 | 71 | Hawaii | Us | ALIKA COSNER | 2:06:55 |
| 15 | 119 | | | CURTIS MILLER | 2:13:29 |
| 16 | 64 | Hawaii | Us | ROBERT NORTON JR. | 2:21:12 |
| 17 | 60 | | | MICAH LIANA | 2:33:03 |
MALE STAND-UP Less than 14.6 ft
| Place | No. | State | Country | Name | Time |
| --- | --- | --- | --- | --- | --- |
| 1 | 77 | | | TODD BRADLEY | 1:24:10 |
| 2 | 100 | Hawaii | Us | JERRY BESS | 1:25:00 |
| 3 | 122 | | | SEPA NAPOLEON | 1:25:01 |
| 4 | 69 | Hawaii | Us | DAVE PARMENTER | 1:25:07 |
| 5 | 107 | | | EDMUND PESTANA | 1:26:54 |
| 6 | 26 | | | MICHI SCHWEIGER | 1:27:41 |
| 7 | 129 | | | DOLAN EVERSOLE | 1:29:32 |
| 8 | 113 | | France | LEROY RICO | 1:29:54 |
| 9 | 68 | Hawaii | Us | ARCHIE KALEPA | 1:32:31 |
| 10 | 30 | Nsw | Australia | SIMON DODD | 1:32:35 |
| 11 | 112 | | | KAIPO GUERRERO | 1:32:52 |
| 12 | 39 | | | SCOT MCPHAIL | 1:33:27 |
| 13 | 51 | Hawaii | Us | CARLOS GILLIS | 1:35:47 |
| 14 | 56 | Hawaii | Us | ROSS KOIZUMI | 1:35:49 |
| 15 | 20 | Hawaii | Us | RAY SHIRAISHI | 1:36:03 |
| 16 | 124 | | | BODO VAN DER LEEDEN | 1:36:45 |
| 17 | 4 | | | DARIN KOHARA | 1:37:04 |
| 18 | 37 | | | JOHN DEMARCO | 1:38:10 |
| 19 | 91 | Hawaii | Us | BRAD FELDMAN | 1:39:36 |
| 20 | 72 | Hawaii | Us | STUART NAKATA | 1:42:33 |
| 21 | 75 | | | ERROL KANEZ | 1:43:09 |
| 22 | 62 | | | HAROLD IGGY | 1:43:39 |
| 23 | 76 | Ca | Us | TED RUTHERFORD | 1:44:01 |
| 24 | 48 | Hawaii | Us | BYRON VALDEZ | 1:44:37 |
| 25 | 49 | | | DAMON ANCHETA | 1:47:07 |
| 26 | 50 | Hawaii | Us | SCOTT NAGASAWA | 1:47:35 |
| 27 | 53 | Hawaii | Us | KALANI KAHALIOUMI | 1:49:20 |
| 28 | 65 | | | TONY MONIZ | 1:49:45 |
| 29 | 83 | | Puerto Rico | JAIME TORRES | 1:51:23 |
| 30 | 38 | | | TIM BRANDON | 1:52:18 |
| 31 | 88 | | | DARIN LEONG | 1:55:10 |
| 32 | 125 | | | JEFF HARRIS | 2:03:12 |
FEMALE STAND-UP Less than 14.6 ft
| Place | No. | State | Country | Name | Time |
| --- | --- | --- | --- | --- | --- |
| 1 | 111 | | | HEATHER JEPPESEN | 1:39:21 |
| 2 | 46 | Hawaii | Us | REBECCA JAKEWAY | 1:39:50 |
| 3 | 123 | | | DONNA BABOME | 1:41:35 |
| 4 | 101 | | | MARJ TAKABAYASHI | 1:52:58 |
| 5 | 120 | | | CAROLYN ANNERUD | 1:56:59 |
| 6 | 21 | | | LYNDA LIM | 2:03:33 |
| 7 | 6 | Hawaii | Us | SHARON STEHLIK | 2:20:00 |
MALE STAND-UP More than 14.6 ft
| Place | No. | State | Country | Name | Time |
| --- | --- | --- | --- | --- | --- |
| 1 | 143 | | | SCOTT GAMBLE | 1:15:26 |
| 2 | 105 | | | AARON NAPOLEON | 1:17:01 |
| 3 | 41 | Hawaii | Us | SCOTT TRUDON | 1:18:27 |
| 4 | 13 | | | MARK RAAPHORST | 1:19:12 |
| 5 | 12 | Hawaii | Us | L MENELAU | 1:21:01 |
| 6 | 11 | Hawaii | Us | ROBERT STEHLIK | 1:22:39 |
| 7 | 42 | | | JEFF CHANG | 1:26:36 |
| 8 | 63 | | | JODY RAGSCHLUTZ | 1:29:20 |
| 9 | 116 | | | NORM BRADLEY | 1:30:05 |
| 10 | 110 | | | BLACK ABRAHAM | 1:31:10 |
| 11 | 87 | Hawaii | Us | EVAN LEONG | 1:33:53 |
| 12 | 84 | Hawaii | Us | KEVIN SEID | 1:36:11 |
| 13 | 66 | Hawaii | Us | HILTON ALVES | 1:40:12 |
| 14 | 102 | | | HERBIE TITCOMB | 1:41:46 |
| 15 | 80 | Hawaii | Us | REID INOUYE | 1:42:21 |
| 16 | 58 | | | ALIKA WILLIS | 1:45:37 |
| 17 | 90 | | | RANDAL LUI-KWAN | 1:48:57 |
| 18 | 67 | | Australia | RICHARD FINLAY-JONES | 1:51:55 |
| 19 | 89 | | | HARRIS CHANG | 1:58:41 |
FEMALE STAND-UP More than 14.6 ft
| Place | No. | State | Country | Name | Time |
| --- | --- | --- | --- | --- | --- |
| 1 | 85 | Hawaii | Us | ANDREA MOLLER | 1:28:29 |
| 2 | 70 | | | JENNY KALMBACH | 1:32:17 |
| 3 | 114 | | | KATIE SLOCUMB | 1:48:05 |
| 4 | 45 | Hawaii | Us | MARY JO GUMBERT | 1:50:03 |
MALE STAND-UP 19 years & Younger
| Place | No. | State | Country | Name | Time |
| --- | --- | --- | --- | --- | --- |
| 1 | 14 | Hawaii | Us | CONNOR BAXTER | 1:24:20 |
| 2 | 22 | Hawaii | Us | SLATER TROUT | 1:24:27 |
| 3 | 7 | Hawaii | Us | ZAME SCHWEITZER | 1:30:12 |
| 4 | 29 | Hawaii | Us | BERND ROEDIGER | 1:31:52 |
| 5 | 106 | | | RIGGS NAPOLEON | 1:33:16 |
| 6 | 25 | Hawaii | Us | MARCIANO WHITFORD | 2:16:30 |
Related posts