November 4th, 2009 by davi
Congratulations to Robert Stehlik for winning the 2009 Fallen Guardians Memorial Race. Here's a race recap he wrote on his blog: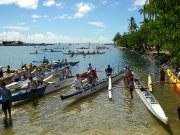 The Fallen Guardian Memorial race was held on Sunday Nov. 1st 2009. The race was open to all kinds of watercraft, check out the traffic jam at the finish.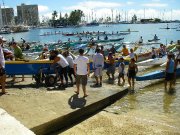 It was all for a good cause with entry fees going to the Fallen Guardian Scholarship Fund. The shuttle bus was a great idea, as we were able to leave our cars at Magic Island (and my camera, too).
There was some confusion at the start as they started everyone at the Canoe Hale in Hawaii Kai. They said everyone had to paddle upwind to the inside boat channel marker then out to the blinker buoy, except paddleboards, we would not have to go around the blinker buoy after rounding the inside channel marker.
I was using a Dennis Pang 17′6 unlimited SUP with rudder that Dennis was kind enough to let me use for the race. This board has great history as Guy Pere won the Duke's Race on it in 2008 and Aaron Nopoleon won the 4th of July 2009 Hui race on it. My goal and mission, of course, was to win this race and continue the board's winning streak. So, I took off fast into the light trade wind that felt pretty strong coming head on. Doug Lock and Jeff Chang were on my tail I opted to head out in the channel around the break as I wanted to reach the bumps sooner. Jeff and most of the rest of the pack headed downwind inside and cut through the breaks in a more direct line to Black Point. Once I got to out the bumps, the board was working well and I was going at a good rate, catching as many bumps as I could and resting while cruising in the troughs and making little adjustments with the rudder to follow the bumps. The board is fairly narrow at 27″ (I think) and a little tippy for me at 6′2 and 190 lbs but it worked great for the moderate conditions and I was able to stay on the board and connect many rides all the way to Waikiki. I reached Black Point in 55 minutes, not as fast as I have done it on a windy day but the lifeguard on a jet ski told me I had doubled my lead to 100 yards or so to the next paddlers, which were Doug Lock and Jeff Chang. As they started us before the canoes and surf ski's, no one was in front of me for the first hour or so. Two OC6 teams passed me past Diamond Head and the second team almost flipped over and got spun almost 180 degrees by a breaker outside the lighthouse just after they passed me. After Kaimana I headed toward the beach to avoid the offshore trades, catching waves and dodging the reefs that were exposed with a fairly low tide. Once I got outside Queens, the water was calm and the wind was pretty much blocked by the Waikiki high rises. It got hot and sweaty and now lots of canoes and kayaks were passing on the outside. I went inside threes and caught a couple waves and fell in twice. I would have probably been faster going around the breaks but I finally made to Ala Moana and finished first in 1:48 ahead of my friend and training partner Jeff Chang who was on a Bark unlimited board. I was stoked with the first place finish and another win for Dennis Pang's racing machine.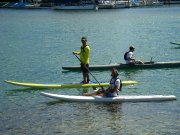 Herbie Titcomb sitting on his 14′ Naish board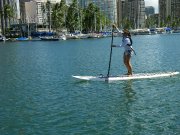 My wife, Sharon Stehlik only started paddling this year. She did the race on a 12′ C4 Holoholo and finished in third place in the Women's SUP, good job sweetie!

Click here for overall SUP race results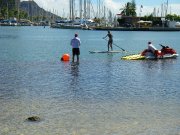 First place women's SUP Nicole Madosik also did the Molokai race this year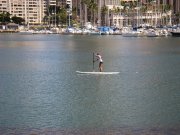 Second place women's Barbara Bumatay came in 3 minutes later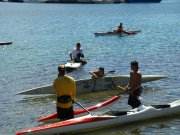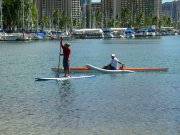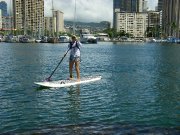 Photos courtesy of Robert Stehlik.
Related posts