November 4th, 2009 by davi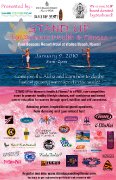 Come Celebrate Women's Health and Fitness on the beauitful island of Maui!
Event: "STAND UP For Women's Health & Fitness" at Four Seasons Resort Maui at Wailea Beach on the beautiful Island of Maui.
Location: Wailea Beach, Four Seasons Resort Maui at Wailea , Hawaii
Date: January 9, 2010 Time: 8am -2pm

Come join the Aloha and learn how to do the fastest growing water sport in the world on the beautiful island of Maui at Four Seasons Resort. Stand Up Paddle Surfing (SUP) is making surfers out of everyone. You've seen the "Stars" do it … now it's YOUR turn! SUP will improve your balance, endurance, strength and mindset. Receive patient, guided instruction from professional instructors and experience the feeling of the "surfer's glide".
"STAND UP for Women's Health & Fitness" is a FREE, non-competitive event to promote healthy lifestyle choices, self-confidence and breast cancer education for women through sport, nutrition and self awareness. You'll not only enjoy learning to SUP, but also to Hula! Enjoy inspirational guest speakers, plenty of healthy treats and fun prizes. Maybe you'll even win your own Stand Up Paddle Board!
Join Maui's premier fitness trainer, sports and lifestyle model, weekly radio talk show host, and columnist, Suzie Cooney (suzietrainsmaui.com) and the Four Seasons Resort Maui at Wailea this January 9th, 2010 for an exciting day to learn this fun sport. Also supported in this event is the American Breast Cancer Foundation.
"The Four Season's is the ideal location to introduce Stand Up Paddling to beginning enthusiasts. It has a beautiful beach and its calm, clear waters offer the ideal, safe paddling conditions. Plus it's on Maui, the best place in the world! You might even see a few sea turtles and whales!" says professional instructor and event co-host Tommy Callan of Beach Boy Events.
For more information or to join other sponsors please contact: Suzie Cooney at suzie@suzietrainsmaui.com or Tommy Callan at tommy@beachboyevents.com.
Official Website to register and become a sponsor: http://www.standuppaddlingfitness.com/
or email info@standuppaddling.com
Stay tuned for more details. Days events and schedule coming soon!
Tommy Callan
Beach Boy Events
808.250.3748
Suzie Cooney, CPT
Suzie Trains Maui
808.283.2121
Related posts