July 11th, 2011 by davi
Connor's Re-Cap from The 2nd Event of the Triple Crown – and WINNING 1st Place!!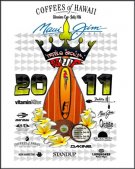 The WARRIOR CUP … 2nd Event of the Maui Jim Triple Crown of SUP
This event was from Maliko Gulch to Honolua Bay (21+ miles) on Sunday – July 10th.
This was a great race but had some of the hardest conditions. The race started at 10:45 in the morning inside of Maliko Harbor. Only 32 competitors showed up for this race – but they were some of the best from here, a few from Oahu and some from Australia. Most racers know how grueling this run is, so many opt not to compete in it.
At the start we all had to be in-between two buoys and sitting down on our boards. When the horn blew I decided to do a sprint to get in clean water and also to play some mind games on the other competitors. So I was in front of everyone for the first half-an-hour and then Aaron Abbey turned the switch on and caught up to me and never left my side until Three Sisters. That's about 2 1/2 hours of us having a paddle battle between first and second place. Three Sisters is a outcrop of three huge rocks sticking out of the ocean.
The conditions weren't great, but they could of have been worse so that was the positive side. Paddling out of Maliko, the wind was about 90 degrees to the board, so you had to paddle on the left side constantly – and there were very few bumps to take cause the main objective is to head out to sea to be able to clear the northwest point of Maui called Nakalele Point.
This is the hard part of the race. Because you want to take the glide – but you can't. You have to head out to sea at least 10 miles to be able to clear Nakalele Point.
After about 1 1/2 hours, I could start bearing off and run with the waves more. But still had to make sure to head out every chance I had.
There were not many bumps to catch – especially in the beginning – just an occasional one here and there that I would catch that allowed me to take a little rest. My dad was on our jet ski beside me passing me energy bars and drinks to keep me going. He also had a squirt gun to spray me when and if I got hot. I think that was his highlight of the trip.
As I got closer to Kahakuloa, I notice I was paddling a lot harder and not moving as fast, so I put two and two together and realized that there was a lot of current going in the opposite direction. It was like that for the last 5 to 6 miles.
So I moved in closer to the rugged coastline to try and get out of the strong current coming down the channel – and this seemed to help.
As I said before, Aaron was right next to me until Three Sisters and he had a board that was a bit faster in the flatter water – so I knew that I had to make a gap on him before Honolua Bay – and the finish line. So I took my last hammer gel and turned the power on. And it is kind of funny, as I got closer to the finish I felt like all the pain went away because all I was thinking was to win, so nothing was going to get in my way.
But thank goodness the run got a little better towards the end and I was actually catching some nice bumps – even though I really had to work for them. When I rounded Honolua point I was a good distance in front of Aaron. As I got close to the finish there were a bunch of tourist swimming by the finish line and on the cliffs they were all cheering for me.
First place earned me 10,000 points – coupled with the first place from the First event – giving me a total of 11,000 points. Aaron Abbey is now in second place with 9610, then Livio Menelau with 9110 and my Starboard Teammate Bart de Zwart with 8333.

After getting everything packed up we went to the Maui Tropical Plantation for the awards. They had unreal food and live entertainment. I got a fantastic Glass Trophy, Maui Jim Sunglasses and Prize Money.
I want to thank my sponsors for all their help and support – Starboard, Rainbow Sandals, Maui Jim Sunglasses, EFX Technology, Dakine, Nike, GoPro Cameras, On It Pro, Waterman's Sunscreen, Sunrite Maui, SIC and Hi-Tech Sports.
Also a big Mahalo to all the event organizers and volunteers.
Aloha -
Connor Baxter

Photos: Karen Baxter!!
Group Photo after Skippers Meeting (sorry I couldn't get everyone in!!):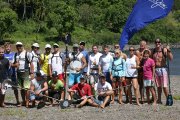 Competitors positioning for the Start: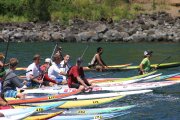 Getting ready for the Start: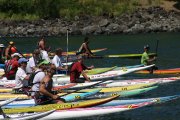 Connor Takes the Lead – right away: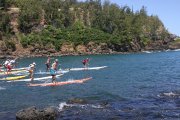 Heading out Maliko Bay: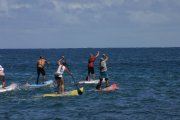 Outside Maliko Bay: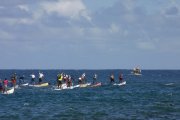 Catching a wave heading towards Honolua Bay: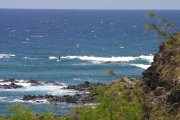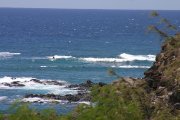 Rounding Point into Honolua Bay: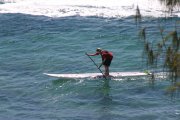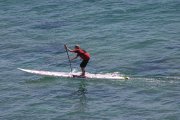 Heading to Finish Line inside Bay: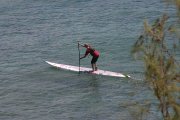 Bart de Zwart (Starboard Teammate) – 4th place: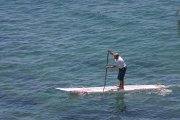 Connor accepting his trophy, prize money and giving a speech!!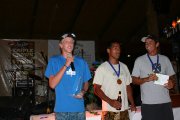 Elite Men's 1st – 3rd : Connor, Aaron, Livio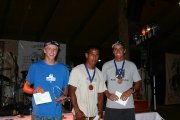 Facebook album of the event:
Jimmie Hepp Photgrapher: http://www.facebook.com/photo.php?fbid=218359538201718&set=at.218359194868419.48425.100000830216933.746389047&type=1#!/media/set/?set=a.218613201509685.48478.100000830216933
YouTube:
Bill Boyum – Start of the race: http://www.youtube.com/watch?v=Ae6mhWDtBrM


(click thumbnail to launch video)
Related posts