November 17th, 2009 by evan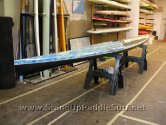 Here's another board that Joe Bark showed me during my visit to his SUP stand up paddle race board and paddleboard factory. This one is an 18′ SUP stand up race board. I've ridden an older version Bark 18′ full carbon race SUP a few months ago in a Hawaii Kai run. It was originally made for Herbie Titcomb and later sold to Robert Stehlik who has been doing really well on it. That board is a bit different than the one Joe showed me.

The board has a carbon, 'California' body — doesn't have a double concave. Good for all-around cruising (light downwind, flat water, into the wind, side chop) and of course racing. According to Joe, the Bark 18′ carbon SUP race board is the fastest board that they make at the moment. All of them are shaped by hand, not molded so they are tailor made to each rider, conditions, etc. The ones for California are going to have less rocker than Hawaii and may also have round bottoms. The 18's for Hawaii have double concaves and more rocker.
On top, this board has a middle ridge that acts as its I-beam which gives it strength and stiffness. This adds stability by dropping the rider closer to the waterline but it does have some drawbacks. If you're in choppy conditions and fall off, it's a bit more challenging to get back on vs a flat deck and if you need to go on your knees for some reason, it's pretty hard. Sitting down is going to be very uncomfortable. I think there's an option for a flat deck also.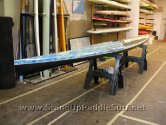 Side view of Joe Bark 18′ racing SUP
The bottom is fairly round and has the black carbon finish like most of Joe's boards.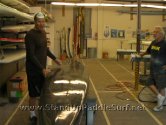 Joe showing me the round bottom of the 18′
The board also has the same rudder system as you see on lie down paddleboards. One thing I though was interesting was the use of a slider for the pedal. It was a few O-rings that can be easily moved forward or back and on the fly. Watch the video to see what I'm talking about. The whole rudder system adds about 3 1/4 lbs. to the boardand should be low maintenance, according to its designer, Charlie who explains it in the video. Personally, I like the rudder hardware off the deck but Joe and Charlie really like this design.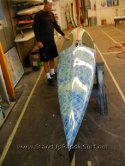 The top with the middle ridge and the tiller sliding system for the rudder
Joe Bark goes over this board in detail in this video I took.
Check out the video:


(click thumbnail to launch video)
Related posts