November 18th, 2009 by davi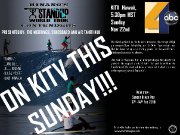 The Stand Up World Tour Contenders introduces the concept of high performance Stand Up Paddling, and the World Championship Tour that has been set up as a proving ground for the world's most celebrated ocean sports athletes.

Join them as they embark on an unforgettable journey aboard two yachts in the magical islands of Tahiti. The goal: to redefine the boundaries of the sport and to set a precedent of what is to come at the legendary wave of Teahupo'o'..
KITV Hawaii, 5:30pm HST
Sunday, Nov. 22nd
Related posts