December 4th, 2009 by davi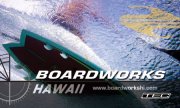 Saturday, December 5th starting at 5pm
Boardworks Hawaii and Blue Planet Surf Shop are inviting you to the big Surfboard auction, hosted by surfer/auctioneer Joe Teipel. We will auction off a large selection of Stand Up Paddle boards, longboards, funshapes and shortboards. For a list of boards to be auctioned, please visit: www.boardworkshi.com.

Boards vary from new and unused with slight cosmetic defects to used demo and rental boards. This is your opportunity to get a great board at a price you can afford. Come early to preview the boards as parking is limited. Boards are available for preview all day Friday Dec. 4th and Saturday Dec. 5th. Many of the auction boards are available for rent/demo and we have low pre-auction prices if you don't want to wait until the auction.
Please call the shop for more information.
Blue Planet Surf Shop
813 Kapahulu Ave.
Honolulu, Hi 96816
Tel. 808 922 5444
Related posts