January 27th, 2010 by davi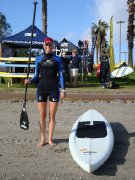 Hovie SUP is proud to announce it has signed a sponsorship agreement with world class water person Gillian Gibree to head its women's SUP race team. Gillian has a Bachelor of Science: Sport Business Management degree and has works in sports commentary with fuel TV, Media Spokesperson, Surf Instructor, and Marketing Assistant for Surf Diva in LA Jolla CA… Gillian will be hitting the Women's SUP race schedule hard for the rest of 2010. Gillian as also signed a sponsorship agreement with Quick Blade Paddles…

Gillian most recently took 5th place at the Hanohano race in San Diego paddling a Hovie SUP 12′6″ "Comet".
Related posts