June 17th, 2010 by davi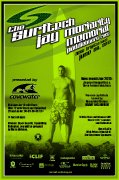 June 14th, 2010, Santa Cruz, CA – Covewater Paddle Surf, the first dedicated stand-up paddleboard shop in Northern California, announced today that they will be the presenting sponsor of the Surftech Jay Moriarty Memorial Paddleboard Race taking place June 26th at New Brighton State Beach. Now in its ninth year, the open ocean event commemorates the great Santa Cruz Waterman Jay Moriarty. Proceeds benefit the Santa Cruz County Junior Lifeguard Programs specifically to purchase paddleboards and provide scholarships in Jay's name.

The prestigious race is the largest of its kind in Northern California. Paddlers, both stand-up and prone, gather from around the country for this annual event to remember and honor the legacy of the respected waterman.
"I've really enjoyed participating in the Jay race the past two years, and I have great respect for what this event is all about, so to be able to step up as the presenting sponsor is an honor," said Scott Ruble, co-owner of Covewater Paddle Surf. "This is more than just a high-profile race; it has become a beloved Santa Cruz tradition in honor of one of its finest sons."
The race kicks off at 8am with a tribute to Jay, followed by a 12 mile race for both paddleboards and stand-ups, and then two mile race. There are also free races for kids age 12 and under beginning at 11am, with soft paddleboards provided. California State Lifeguards will patrol all races, and a family-friendly atmosphere abounds at this fun event.
All competitors receive a goodie bag, tee-shirt, competitor's jersey, fresh Peet's coffee, snacks, and a Hawaiian plate lunch from Aloha Island Grill. There will also be a raffle with great prizes from the race's various sponsors.
For more details and registration information, go to http://surftechsup.com/events/2010-surftech-jay-moriarity-memorial-paddleboard-race/
About Covewater Paddle Surf
Located in beautiful Santa Cruz, California, Covewater Paddle Surf is the only dedicated stand-up paddleboard shop on the West Coast north of Santa Barbara. Locally owned and operated by Scott and Leslie Ruble, Covewater is conveniently located at 726 Water Street in mid-town Santa Cruz, just off Highway 17 or Highway 1 and only minutes away from Main Beach, the Santa Cruz Harbor, and the downtown area. We are open to serve the greater Monterey Bay community weekdays from 10:00am-5:30pm and weekends from 10:00am-6:30pm. Visit our website at www.covewaterSUP.com for more information on our huge selection of boards, paddles, rentals, and lessons.
Media Contact:
Leslie Ruble
leslie@covewatersup.com
831-600-7230
Related posts