June 24th, 2010 by davi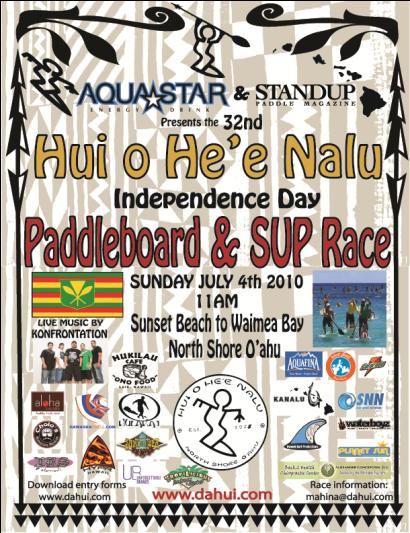 AQUASTAR ENERGY DRINK & STAND UP PADDLE MAGAZINE PRESENTS THE
32ND ANNUAL HUI O HE'E NALU INDEPENDENCE DAY PADDLEBOARD & STAND UP PADDLE RACE
Sunday, July 4, 2010 Start time: 11:00am at Sunset Beach.
For 32 years, the Hui O He'e Nalu (a non-profit organization) has been carrying on the ancient Hawaiian tradition of paddleboarding with its annual "July 4th Independence Day Paddleboard Race" from Sunset Beach to Waimea Bay. This race has been a favorite amongst the novice and veteran paddlers because of the short distance of 4 miles. With numerous age divisions as young as 13yrs and younger to the veteran 60+ age group, this gives everyone of the opportunity to test their agility and competiveness regardless of paddling experience.
Since 2007, we have opened up the race to the Stand Up Paddling community, which have double/tripled in the amount of entrants annually. In 2009, our event set a record of 402 paddlers total making it possibly the largest paddleboard & stand up paddling race in the world! This year, we are anticipating close to 500 competitors!
Considered to be an ohana-style event, the ever favorite parent/child division, in both paddleboard and stand up paddle divisions, provides families the opportunity to experience a healthy ocean sport, together. And to keep with our Hawaiian culture, the traditional all-wood board division is one of the most challenging divisions of all. Wood boards need to be solid wood. No hollow wooden boards will be allowed. This year, a portion of the competitor's entries will benefit the Hawaiian Immersion language schools as Da Hui has always supported our na keiki; especially those perpetuating our Hawaiian culture.
Registration forms, race course and age group information can be found at www.dahui.com. Pre-registrants will receive a limited-edition Da Hui Eco-Friendly Bag and other goodies! Last day for pre-registration is Saturday, June 26, 2010. Beach entrants will be accepted. Beach registration will begin at 8am at Sunset Beach on Race Day. No late fee for beach registration.
Should you have any questions and/or concerns, please feel free to call me at #368-7749 or email: mahina@dahui.com.
Related posts