August 18th, 2010 by davi

NEW WAVE EVENT: C4 WATERMAN SUP Surf-Off
Duke Oceanfest 2010

C4 Waterman has added a wave-riding event to the Dukes Oceanfest 2010 schedule in response to popular demand!
The C4 Waterman SUP Surf-Off will be held on Friday August 27th from 1pm-5pm.
To secure a place in the Surf-Off, competitors must qualify through the C4 Waterman SurfSUP race on Thursday, August 26th.
In a format that seeks to recognize the complete SUP paddler, the field of 24 will be decided at the conclusion of the SurfSUP race on Thursday. The heat draw will be made up of the top 16 placed men, the top 6 placed women and the top 2 juniors. These competitors will compete in a high-performance SUP surfing contest at Queens, Waikiki. *
There are no board size limits and no divisions for the Surf-Off, just the top 24 competing for the title of Champion.
Be sure to enter the event on Thursday. Beach entries are encouraged and are open from 10am Thursday August 26th, or online at C4waterman.com.
Competitors in the C4 Waterman SUP Surf-Off will vie for a one of a kind hand-painted paddle and a prize pack from FCS.
Competitors in the C4 Waterman SurfSUP race will challenge for $3750.00 of C4 Waterman Store Vouchers.
These Painted Paddles were designed for C4 Waterman by Artist Chris Spencer and will be given as awards.

* The 24 qualifiers are required to pay an additional $25 to validate their entry into the SUP Surf-Off event, otherwise priority will be given to the next top finisher in each division.
Dukes Oceanfest August 26th: C4 Waterman SurfSUP race.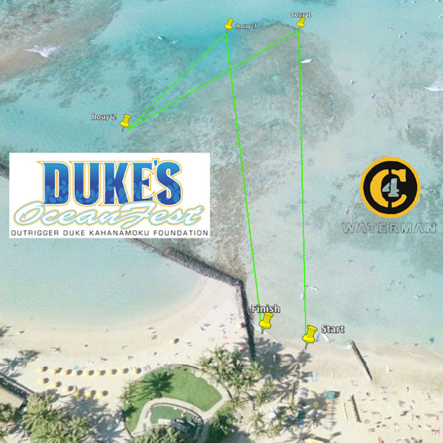 ENTRIES OPEN ONLINE NOW
Click here to enter and read more
Event is LIVE on the Internet and Oceanic Chanel 250
Mens and Womens 1st place $600 – 2nd place $400 – 3rd place $200 – 4th place $100 – 5th place $100 – 6th place $100: Juniors 1st $300 – 2nd $200 – 3rd $100 – 4th thru 5th $50 -
Related posts