September 23rd, 2010 by davi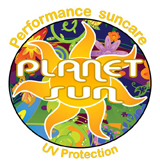 ALOHA sports and suncare fans…
A Hawaiian Punch of Paddling with Anna Mathisen, the Kailua Canoe Club and a Big Hat.
Anna Mathisen and maiden mates from the Kailua Canoe Club took on the 33 mile E Lau Hoe women's canoe race, padding to a fifth place finish. The Kailua Canoe club had 3 women's teams in the top 10 of over 50 crews- a stellar achievement. Sights set now on the "Big One" – the Na Wahine O Ke Kai — the women's Molokai-to-Oahu championship race on 26 September. A shot of Anna and crew digging in. Planet Sun also on site suncare support at the recent "Race Around the Hat" OC-1 (one man) paddling race . Staged at and around the famous China Man's Hat on Oahu's east shore making for a beautiful and challenging venue. Paddle On.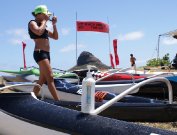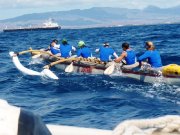 Trish Havey smiled for 24 hr straight hours at the recent race 24 Hours of Hell in Paradise mountain bike race in the storied Kualoa Ranch,Oahu. Trish part of a smokin hot All Women's team of 5, called Mr. P's Muddies. Trish reflected on crashes, dislocated fingers, stitches, and being chased on single track by spooked cows. The stuff we love. Trish later shook off the mud to join us at the Na Wahanie Triathlon All Women's Triathlon in Honolulu . Mr. Sunshine on hand and very happy armed with Sunscreen pumps and application duties. A pic of Trish and muddied mates and debut as hat/head model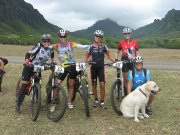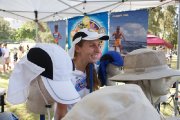 The Good Deeds of Men and Women. Brother Ryan O'Malley continues to Go the Distance for Diabetes Research. Ryan recently completed the Harrisburg Half-Marathon raising $3,472 thus far for the American Diabetes Association. The Running Man's next stop is the San Jose Rock-n-Roll Half-Marathon on October 3rd. Follow his plight at: http://www.rpi.edu/~omallr2/diabetes/events.html
Also fundraising efforts under way for Chet the Jet Blanton, as he takes on the Double Deca triathlon in Mexico in November. A Nobel endeavor in the works with Miles for Melanoma and Chet to raise funds for Melanoma Research and a cure. Please stay tuned for more on this to come soon.

On the Horizon- Gigantic stuff.
The Blue Angles and about 20,000 spectators in the Hawaii Sun- Our kinda party. This weekend Planet Sun proudly sponsors and supports the 2010 Kaneohe Marine Corps Base Airshow and Bayfest, 25-26 September. On site suncare relief for the over-exposed masses huddled and on a Tarmac. Open to the public. http://www.mcbh.usmc.mil/Airshow/
Shonny V at XTERRA US Championships, 25 September. Shonny Vanlandingham races in one of the most significant events of her year. Shonny is Number One overall in the the XTERRA US series standings… all our eyes on the Multi-Sport Mogul as she takes on the top pros. YOU GO GIRL.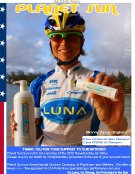 Rainbow Sandal Gerry Lopez Battle of the Paddle. Mr Sunshine hits the road. Planet Sun proud to be part of this world class event for the third time. Essentially, the world series of paddleboard racing. October 2nd & 3rd at Dana Point, California. http://www.standuppaddlesurf.net/2010/09/22/battle-of-the-paddle-california-will-see-record-turnout-october-2-3/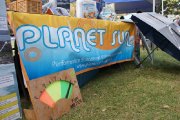 Dreaming of October.
Ohhh yea. Baseball's World Series, Mr. October.. we love it, but around these parts the month of October is holy and the ground hallowed for all Multi-sport Warriors. We are talking about the IronMan World Championships in Kona, and the XTERRA World Championships in Maui
Planet Sun heroes peaking in training and soon to taper. Sandy and Mike Ferreira on the start line in Kona. Shonny V, Trish Havey to take on Haleakala at XTERRA. More to come in next report.
Stay Tuned
Visit us on Facebook http://www.facebook.com/#!/pages/Planet-Sun-Hawaii/132627306762319

John O'Malley
President, Chief Motivator and Inspirator
Planet Sun Comprehensive Sun care and UV Protection
ph: 808 372-6018
fax: 808 254-4110
www.planetsunhawaii.com
Related posts