October 2nd, 2010 by evan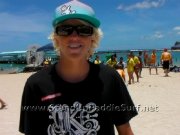 Connor Baxter, winner of the 2010 Duke's Oceanfest Race and a number of others gives us some tips on becoming better paddlers. He gives a quick overview on his Starboard equipment and then gets into the paddling techniques. Connor gives some tips to beat the 'older guys'…you know, like 18 year olds. One thing to note is that this kid is really fast…probably faster than you think.

Kainoa Beaupre is a fast paddler. He did a Hawaii Kai run with Connor the week before the Duke's race and was really impressed that Connor kept up with him the whole run. Kainoa said that Connor's glide looked like he was on an OC-1 canoe because he never really slowed down. They finished at the same time with Connor on a SUP and Kainoa on a Fusion OC-1.
Check out the video tips below:


(click thumbnail to launch video)
Related posts