October 2nd, 2010 by davi
MEDIA CONTACT: Jodi Wilmott, Email or +1.808.258-8533
HIGH RESOLUTION IMAGES AVAILABLE TO ACCREDITED MEDIA UPON REQUEST
DANNY CHING VICTORIOUS AGAIN AT
RAINBOW SANDALS BATTLE OF THE PADDLE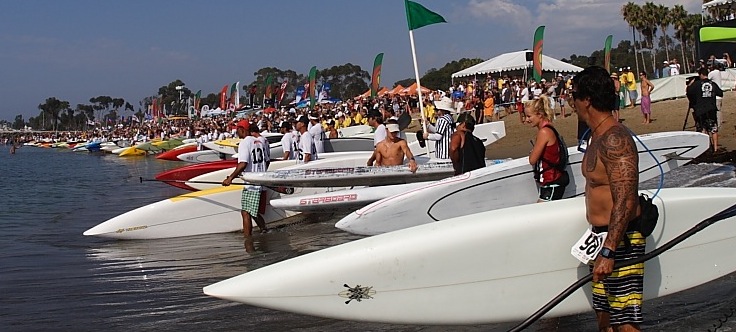 Above: Starting Line. Photo: Pat Huber

Dana Point, CA – (Saturday, October 2, 2010) — Californian Danny Ching remains the king of stand up paddling (SUP) after taking first place in the Rainbow Sandals Gerry Lopez Battle of the Paddle California elite race, Presented by Quiksilver Waterman Collection. Ching (Redondo Beach) survived a tough battle with nine-time world paddleboard champion and last year's Battle of the Paddle California champion Jamie Mitchell (Australia). The Battle of the Paddle is the world's largest SUP festival and exposition, with more than 700 race entries across the weekend's events. There were 160 starters in today's elite race and 340 in the open race. Thousands turned out at Dana Point, and more than 58 countries tuned in to the live webcast, inspired by SUP Company.
The course was a technical 5-mile/4-lap buoy circuit in and out through the surf, and included 100-yard beach sprints between laps. Ching started out in the lead and never relinquished it. Mitchell was hot on his heels throughout the first two laps, but felt the distance grow thereafter.
Ching (57 minutes, 45 seconds) won $5,000; Mitchell (59:36) took home $3,500; and Slater Trout (Maui, 1:00:39), third, won $2,500. All three will return tomorrow for the 10-mile Distance Race from Dana Point to San Clemente Pier, and back.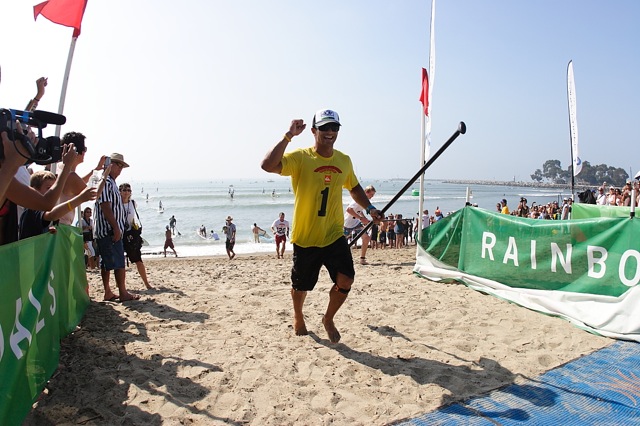 Above: Danny Ching crosses the finish line. Photo: Pat Huber
In the women's Elite division, San Clemente's Candice Appleby and Brandi Baksic exchanged the lead position more than a handful of times, but it was the never-say-die determination Appleby is famous for, that gave her the final honors. Appleby (1:10:31) won $2,500; Baksic (1:11:03) earned $1,250; and Jenny Kalmbach (1:13:20), third, won $1,000.
"It got pretty heavy on some of those of those buoy turns," said Ching, of the large field of racers and bottlenecks of the course. "But my goal from the outset was to make space. There were a lot of waves and some hectic moments, so when I'd get a long stretch of paddling I'd just go for it.
"I've been in training for a 32-mile six-man canoe race in Hawaii next weekend and my focus has been all about the distance, so I was feeling pretty good on those long stretches where I could just put my head down and go as hard as I could."
Mitchell is better known for being the world's greatest paddleboarder – distance paddling without the use of a paddle, but he's a threat on all forms of craft. He proved that when he won here last year. But today's battle was always going to have him pegged as the chaser after Ching won both the elite and distance races at Battle of the Paddle Hawaii in June.
"This was Danny's race, he was the man, he earned every bit of that and it was a great battle," said Mitchell. "I think the turning point came after the second lap when we were coming in to the beach. I got a wave and he was right there in front of me so I put everything into the run and caught right up. But after that, I was feeling pretty spent and just watched him drift away from me."
Appleby, like Ching, was the woman to beat after Battle of the Paddle Hawaii. Here she had the emotional advantage of a hefty home-town and family crowd.
"That was a really exciting race," said Appleby. "Brandi and I were back and forth and I knew it was going to come down to the finish. But I've got all my family down here and its all of them that keep me going. Never give up!"
The open race featured a host of different age group and board length categories, with as many respective champions. Line honors today went to Maui's Bart De Zwart (52:52), who was riding a 14-foot board yet managed to eclipse even the 18-foot paddlers. The first woman over the line was Betsy Risner, of Park City, Utah, (1:06:26) who crossed at the same time as her husband. At 58 years of age, Betsy is the epitome of what stand up paddling is all about: all-inclusive with no age or gender barriers.
The oldest paddler to hit the water today was legendary California surfer Mickey Munoz (Dana Point), 73, and the youngest was Dax McPhillips (San Clemente), 6.
The Rainbow Sandals Gerry Lopez Battle of the Paddle, presented by Quiksilver Waterman Collection continues at Doheny State Beach tomorrow, as does the live webcast, inspired by SUP Company. Go online to win prizes throughout the day.
All results can be found at: eternaltiming.com
SUNDAY SCHEDULE:
8am – LIve webcast begins
9am-4pm SUP Expo and kids activities
9am – The Distance Race
12pm – Kids Races
1:30pm – SUP Surf Relays
3pm – Awards
4pm – Live webcast ends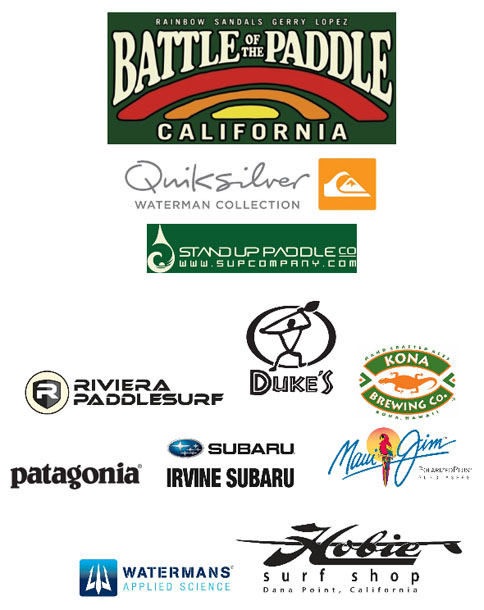 Related posts