October 3rd, 2010 by davi
MEDIA CONTACT: Jodi Wilmott, Email or +1.808.258-8533
HIGH RESOLUTION IMAGES AVAILABLE TO ACCREDITED MEDIA UPON REQUEST
CHING REPEATS WITH DISTANCE WIN AT
RAINBOW SANDALS BATTLE OF THE PADDLE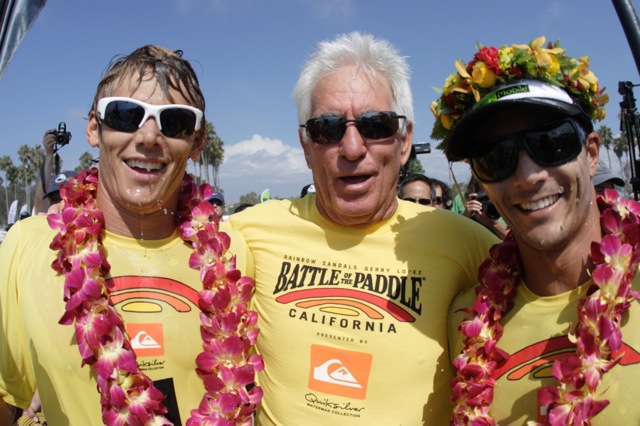 Above: Stars of the BOP Show –
Danny Ching (R), Jamie Mitchell (L), "Sparky" (C)
Photo: Pat Huber

Dana Point, CA – (Sunday, October 3, 2010) — It was a Danny Ching repeat at the Rainbow Sandals Gerry Lopez Battle of the Paddle California, Presented by Quiksilver Waterman Collection, as the Redondo Beach paddling powerhouse took out today's 10-mile distance race. Ching added another $1,100 to his weekend wallet, and his fourth Battle of the Paddle title for 2010 after claiming both the elite and distance stand up paddle (SUP) races this weekend, and in Hawaii back in June.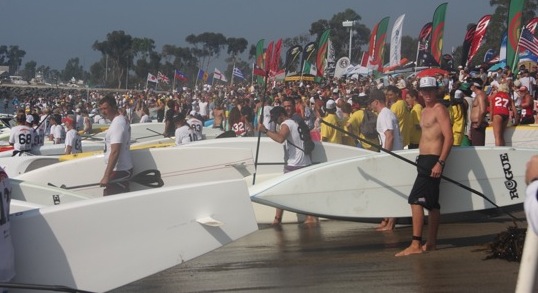 Above: SUP doesn't get bigger than the Battle of the Paddle.
Photo: Pat Huber
Ching led the field of 159 from start to finish, racing in the unlimited 18-foot paddleboard division. He crossed the line in one hour, two minutes and 19 seconds, ahead of Rob Rojas (San Clemente, 1:02:59) and Chuck Patterson (Dana Point, 1:03:52). In the shorter 14-foot division, Australian paddle icon Jamie Mitchell was the first to finish in a time of 1:09:13. Mitchell was pushed to the limit and the finish line by Tahiti's George Cronsteadt and Maui's Slater Trout, who were tied for second place just one second behind him.
"It has been an unbelievable weekend," said Ching. "There's no doubt that it doesn't get more fun than this. I love to paddle – kayaks, surf ski, outrigger canoe, but to get out there on the water standing up, catching waves, it's the greatest feeling."
Ching switches gears after today, heading to Hawaii to compete as part of a 6-man outrigger canoe team in the 32-mile world championship Molokai Hoe.
The women's race was equally intense and one of the fastest in Battle of the Paddle history. California's Brandi Baksic, paddling a 14-footer, won $800 for her time of 1:15:25 – just six minutes after Jamie Mitchell. Behind Baksic was Rachel Brunton (California, 1:16:30), and Andrea Moller (Maui, 1:17:00).
"I wasn't even thinking about the other girls, because I knew they were hot on my heels," said Baksic. "I didn't want to know how close they were!"
Twelve year-old Riggs Napoleon (Hawaii) gathered a new following today after starring in the distance race (1:25:25), and dominating the elite kids Battle of the Paddle race to win in a time of 5:41. Standing less than four feet tall, Napoleon has offered endless entertainment for the SUP community here in California, showing off his advanced surfing, racing, and strategic skills.
The third annual Battle of the Paddle California wrapped up in true festival style with a wild relay battle between 51 teams that represented the full spectrum of stand up paddling: men, women, young, old, professionals and amateurs. For the elite paddlers the win carries ultimate team bragging rights, and the $1,200 victory belonged to Team SUP Company, that included Jamie Mitchell, Slater Trout and Brandi Baksic. There was plenty of carnage as 51 paddlers at a time raced it through shoulder-high surf, around a buoy course and back through the waves before finishing with a beach sprint to tag their next paddler. Mitchell, the anchor paddler of Team SUP Co, brought the weekend to a climactic close by surging past Team Hobie's Chuck Patterson on the biggest wave of the day to sprint home with the win. Team Hobie had held the lead through more than 40 minutes of racing.
The Rainbow Sandals Gerry Lopez Battle of the Paddle, presented by Quiksilver Waterman Collection, rallied a total of 863 entries from around the world this weekend and around 10,000 spectators. The event was webcast live, inspired by SUP Co, with more than 60 countries tuning in online. This world famous SUP event will return in 2011 at the beginning of summer. Stay tuned… and ALOHA!!!
All results can be found at: eternaltiming.com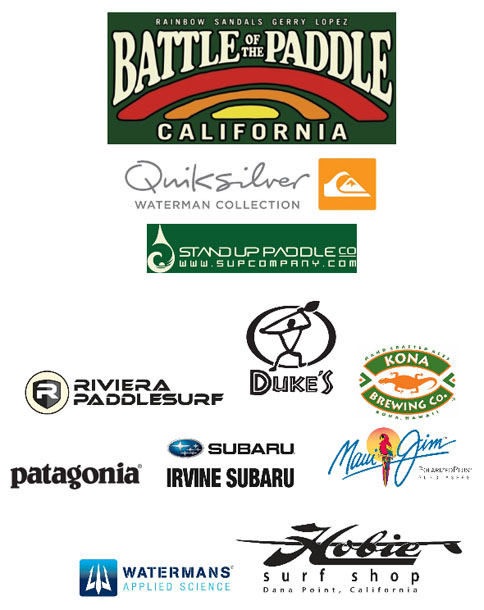 Related posts